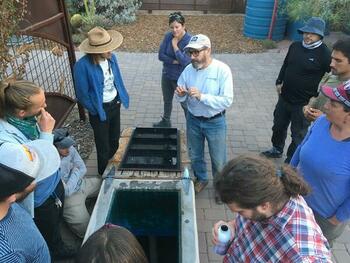 WMG's Water Harvesting Design Certification course provides professionals, educators, and community organizers with comprehensive instruction in water harvesting systems design and construction.
Already working in a related field? Our certification course provides the highest quality and greatest depth of training in integrative water harvesting in the nation.
Join us in Tucson, Arizona for this week-long, intensive program. You'll learn all you need to know to design and install an array of water-harvesting systems and integrate new skills and knowledge into your practice, educational, or advocacy work.
Upcoming Courses:
Fall 2022 - Nov. 14th - Nov. 19th with virtual primer sessions Nov. 7th and Nov. 9th. This course is currently full, but you can join the waitlist!
Winter 2022 - Dec. 5th - Dec. 10th with virtual primer sessions Nov. 28th and Nov. 30th.
Spring 2023 - Mar. 6th - Mar. 11th with virtual primer sessions Feb. 27th and Mar. 1st.
 
There are no formal educational or professional requirements to take this course! We also offer need-based scholarships to defray costs.
Find more information about our Water Harvesting Design Certification courses, and email us if you have any questions.