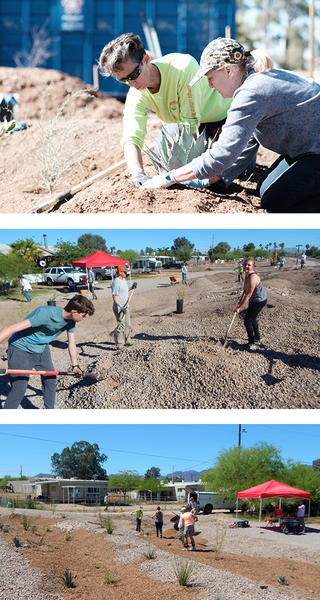 Have you noticed big machinery digging large basins, and groups of people shoveling dirt, planting trees, and spreading mulch along Shannon Road in the Flowing Wells Neighborhood? 
This is Watershed Management Group (WMG) and its team of volunteers - thanks to funding from Pima County - working to reduce flooding by creating places for the stormwater to go when it rains. So instead of the streets and homes flooding, the stormwater will sink into the ground and help raise the groundwater table - while creating a shady, beautiful community space for the Flowing Wells Neighborhood. Read more about the project - and resources especially designed for Flowing Wells residents - below, and please join us for these upcoming community events!

What is happening?
The Shannon Road project is helping channel stormwater from the adjacent roadway into rainwater harvesting basins to reduce flooding while creating a shady, beautiful community space for the Flowing Wells Neighborhood. The design converts the currently barren and hot public right-of-way into a series of rain gardens along North Shannon Road that will support a lush array of native plants.  
Why is this happening?
The rain gardens along North Shannon Road will function as green infrastructure (GI) to control stormwater. GI mimics natural systems that will direct stormwater to the rain gardens instead of the water flowing into this street. This will that benefit the environment and the community in many ways!
Reduce Flooding: 13,000 square feet of rainwater harvesting basins to capture stormwater run-off
Create Shade & Help Cool the Street: 57 new shade trees
Create Native Habitat: 500 new native grasses, shrubs & succulents to attract urban wildlife
Beautify the Neighborhood: Improve property values & community pride
Empower & Educate: Help the surrounding community learn more about how to harvest the rain in their own homes!
 
How are we doing it? 
The design was developed in collaboration with the Flowing Wells Neighborhood Association and is being implemented in partnership with Pima County's Department of Community Development and Neighborhood Conservation. We are currently working with neighbors and volunteers from Flowing Wells and beyond to finish the work!
Resources for Flowing Wells Neighbors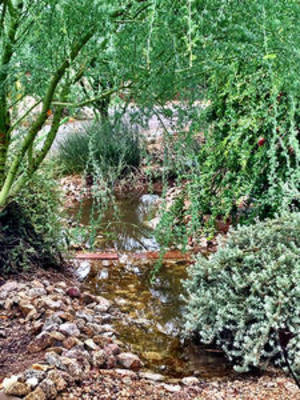 Free Rainwater Harvesting Home Visits: Are you interested in saving money on your water and energy bills? Dream of a beautiful and affordable yard? Schedule a free rainwater harvesting home visit with us! Home visits are completely FREE and include:
A walk-through of your property with a WMG Designer
A design plan and rough cost-estimate
Education and referrals including:

Financing resources (including available grants & rebates if you are a Tucson Water customer)
DIY tools and information
Co-operative workshops with neighbors
Contact us at info@watershedmg.org or 520-396-3266 for details.