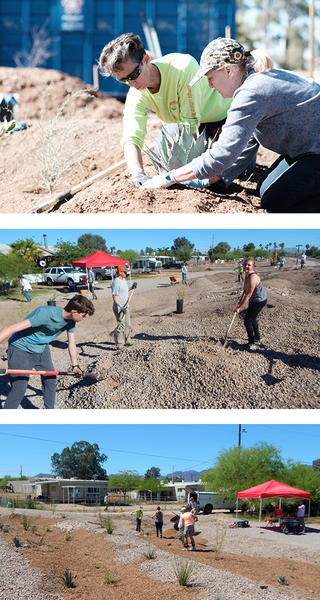 Watershed Management Group (WMG) and its team of volunteers - thanks to funding from Pima County - is working to reduce flooding by creating places for the stormwater to go when it rains. So instead of the streets and homes flooding, the stormwater will sink into the ground and help raise the groundwater table - while creating a shady, beautiful community space for the Flowing Wells Neighborhood. 
Resources for Flowing Wells Neighbors
Free Rainwater Harvesting Home Visits: Are you interested in saving money on your water and energy bills? Dream of a beautiful and affordable yard? Schedule a free rainwater harvesting home visit with us! Home visits are completely FREE and include:
A walk-through of your property with a WMG Designer
A design plan and rough cost-estimate
Education and referrals including:

Financing resources (including available grants & rebates if you are a Tucson Water customer)
DIY tools and information
Co-operative workshops with neighbors
Contact us at lsalgado@watershedmg.org or 520-396-3266 for details.