Design Services for You
Our design experts will work with you to create a Sonoran Desert inspired landscape that harvests and conserves water, beautifies your yard, and meets your lifestyle goals.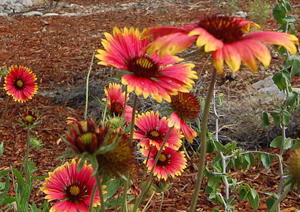 Project Plan Starts at $375. Our design professionals will visit your home to evaluate opportunities for water harvesting, native and edible landscapes, wildlife habitat, and integrated design elements on your site and provide additional design detail for a specified project area. Not all landscapes need a tank providing irrigation! We explore your lanscape's water needs and determine if tanks will are necessary for you to reach your financial and water harvesting goals. This plan is the starting point for scheduling a project installation with WMG's Co-op, and will meet the requirements for the Tucson Water rainwater rebate application.
***Project Plans are currently offered Quasi-Virtually. Our field staff will visit your property, but will not have face-to-face interaction with you or other people at your home.
Water Harvesting Virtual Appointment $30 for 30 minutes. Make the most of your time at home and dive into some water harvesting projects with the help of WMG's water harvesting specialists! Speak with our staff to answer questions about designing, building, and maintaining water harvesting systems and native and edible landscapes. 
Consultation Services $75/hour. We can offer hourly design services for landscape and channel restoration issues, larger property assessment and design, neighborhood assessments and concepts, or if you need on-call services for a long period of time.
Non-Profit Services $55/hour. Are you a 501(c)3? We offer reasonable hourly services for our fellow non-profit organizations.
 
Specialist Visits 
Consultation Services $75/hour Do you have specific, unique, and/or technical questions or concerns about your water harvesting systems? We can help! Our staff has been in the industry for over a decade and can help you understand how your system works, will troubleshoot any system issues, and can advise you on how to solve the issues, or what we would charge to do any fixes. We will come to your home to give you the support you need.  
Implement the Plan
Working with our Green Living Co-op program our experienced project managers will help make your plan a reality.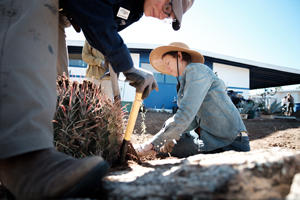 Co-op Workshop Packages Collaborate with other Co-op members as you work together to transform your yard and community. After creating your project plan, a WMG project manager will coordinate and lead a volunteer workshop to implement your project with help from your neighbors and other community volunteers. All WMG project team members are certified water harvesting experts. ROC#301047. Substantial discounts are offered to Co-op members—learn more about the Co-op. 
Rainwater Harvesting Grant & Loan Program Everyone should be able to harvest rainwater at home! Rainwater harvesting installations are affordable and simple through our Grant and Loan program paired with our Co-op program. We are also working with Tucson Old Pueblo Credit Union for financing, learn more about their Green Loans here. 
Take Home Kits Save money and time. Take home a composting toilet barrel kit system or a laundry-to-landscape greywater kit. * Kits are for local pickup only! *
---
Ways to Green Your Yard
Rain Garden Sculpt your landscape to capture the rainwater pouring off your roof or hardscape and create a lush, water-conscious yard. We'll customize the style and plant palette to meet your needs and create a functional and aesthetic rain garden.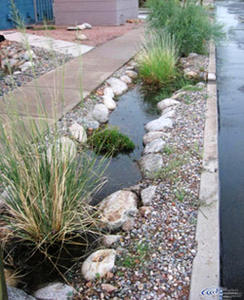 Greywater to Landscape Our project managers make it a snap to irrigate fruit trees, native plants, and more, with greywater from your laundry, bathroom sinks, showers, and kitchen sink (dark greywater).
Rain Tanks We will work with you to customize a rain tank system for your landscape and water supply needs. Tank installation includes recommended best practices: all potable-grade materials, leaf diverter, 1st flush pre-filtration, full port valves, and overflow directed to infiltration basin with protective cover.
Green Infrastructure Turn your sun-baked street into a shady, inviting lane. We will plan your project to capture stormwater to irrigate shade trees and native pollinator plants and help navigate utilities and the permitting process.
Urban Orchard Be fruit-full and route all accessible greywater sources to irrigate an urban orchard of 3–20 trees. We will utilize water from your laundry, bathroom sink & shower, kitchen sink, and more for your abundant landscape!
Sonoran Food Forest Our project managers will help you build a multi-layer landscape for food production, shade, and habitat creation, by integrating earthworks, soil building, greywater systems, and rain tanks.
Channel and Landscape Restoration WMG can help you restore the health and function of your land, arroyos, and creeks through watershed restoration practice. Submit a restoration project application. 
Other Green-Living Features Ask us about chicken coops, wildlife bird habitats, monarch waystations, edible landscapes, outdoor showers, soil building, composting toilets, passive solar, and more.
Why WMG?
WMG is a non-profit organization working to improve the communities we serve and benefit all people. All profit earned from these services are invested in our public education programs.
Questions? Contact Charles Alcorn, 520-396-3266 x3.