Ready to put your washer water to good use on your fruit trees, shrubs or ornamentals?
Purchase a Laundry-to-Landscape (L2L) kit and divert your laundry greywater to those thirsty plants! 
Once we receive your request, we will confirm which type of kit is best for your situation and schedule a pickup time (typically 2 weeks after your request) for one of our staff members to walk you through the building process. Pickup is available only from WMG's Living Lab and Learning Center located at 1137 N Dodge Blvd during regular 9:30a.m. – 5p.m. business hours.
Whats included in an L2L kit?
We build two types of kits: Diversion (aka "indoor") and Distribution (aka "outdoor") kits. The cost includes all materials described below, along with time for assembling the kit, coordinating a pick up time, and discussing your particular needs or installation questions.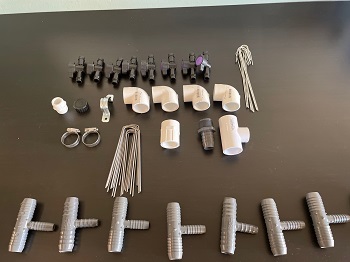 Diversion kits ($190) include all necessary parts to allow you to choose between sending your water to the sewer (what it's probably doing right now) and another location. It also includes an anti-siphon vent (aka an "air admittance valve") to prevent a continuous siphon from happening due to your washer's pre-existing pump.
Distribution kits (Poly: $157 or PVC: $188) then allow you to send that water to individual plants in your landscape. We build two types of distribution kits: poly (aka "flexible") tubing or PVC (aka "rigid") pipe. Poly Distribution kits are less expensive, more flexible, but less durable overtime. PVC Distribution kits are more expensive, less flexible, and more durable overtime. Both poly and PVC can degrade from UV light, so consider covering, painting, or burying your tubing or pipe for longevity. Both kits include a "clean out" which allows you to hook up a hose and flush out any potential clogs in the system. They also come with 8 sets of branches and emitters (see the following section).
How many plants can I support with my L2L system?
Front loading washers, including high-efficiency ones, will use 15-20 gallons per load. Top loading washers will use 30-40 gallons per load. We encourage pairing your washer water with existing fruit trees, shade trees, or ornamentals that can benefit from that water and reduce your need to use municipal groundwater.
L2L systems need to have 6 to 10 emitters to accommodate your washer pump. We recommend using 1 to 3 emitters per plant. This means you can support 2 to 10 plants from your washer! You can request an additional 2 emitters as part of your kit if needed.
How do I know if an L2L system will work in my house?
The key is access to your washer. If your washer is already outdoors, you're in luck! This is the most straight forward installation of both the Diversion and Distribution kits. If your washer is located in a room with a wall to the outside, you may also be able to install relatively easily! You can discuss your specific situation with our staff to determine the best possible installation method. If your washer room is located in the middle of your house (not near a wall to the outside), plumbing may be too costly for an L2L system. However, you can still reach out to us with other potential greywater ideas! We are happy to do simple modifications to either kit to accommodate your particular needs.
Do I need both the Diversion and Distribution kit?
We strongly recommend including all of the major components in each of these kits (diversion tee; anti-siphon vent; clean out; etc.) and we have strived to create as simple, affordable and reliable a system as possible. You can also hire WMG staff to install the Diversion/Indoor plumbing portion (the more technical of the two), then purchase a Distribution/Outdoor kit and finish the system yourself!
Further, we host a "How to Install Your Own L2L System" virtual field studies class twice a year (check out our class schedule for the next one!). This 2-hour class will go through the specifics of installation and allow for group discussion of common setbacks.
I'm ready to purchase one or both kits, now what?
Fill out the application below and we will contact you soon to schedule a pick up date! When you come to pick up your kit, a staff member will review:
Each pre-assembled component of your kit and how to build the rest

Basic plumbing techniques

How to troubleshoot potential issues

How to calibrate your system once installed
We strive to provide water harvesting resources to people of all income levels. Please contact us for more information about qualifying for limited income discounting for installations.
If you are a Tucson Water or Metro Water customer you may be eligible for a rebate for these costs. In order to be eligible for a rebate with Tucson Water, you must attend a Greywater Rebate class. See our schedule for upcoming rebate classes.