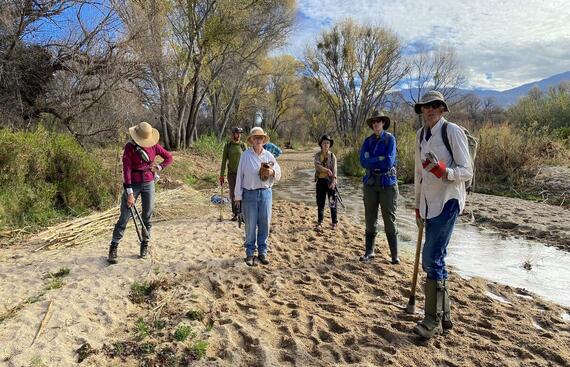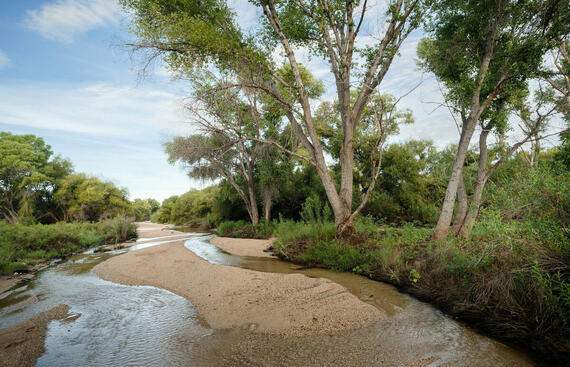 About This Invasive Species Removal Effort
Join our community effort to restore Tanque Verde Creek! WMG's River Run Network is excited to tackle the removal of an invasive species, Arundo donax (giant reed), from along Tanque Verde Creek in east Tucson. Arundo is harmful because it drinks up to 3-4 times as much water as native desert plants, crowds out native species and habitat, and increases the risk of flooding and wildfire. By removing Arundo, the River Run Network is helping to restore groundwater levels and surface flow in the Tanque Verde. In late 2023, we will also begin phase two of this project: replanting native riparian trees and shrubs in many of the areas we have removed Arundo.
 
Volunteer to Help
Come work with WMG staff and other River Run Network volunteers in a beautiful riparian area to remove this invasive species and contribute to the restoration of surface flows and the riparian forest. All of these workshops are outside and  including rough terrain. You will be walking and working in sandy, rocky, possibly wet soils, and navigating through riparian environments as well as using tools and moving heavy Arundo stalks.
New to this effort? At each workshop, we will hand out a punch card to new volunteers and punch returning volunteers' cards to help you keep track of the workshops you've been to! Make sure to sign in on the registration sheet to be counted as well. See below for our prizes for the round of workshops:
If you attend 3 workshops you'll get a River Run Network T-Shirt

If you attend 5 workshops you'll get youtr choice between a Release the Beavers Hat or a Long Sleeve Shirt

If you attend 10 workshops you'll be invited to attend an exciting outdoor excursion this spring

Ready to participate? See the events below to register.

The Effort So Far...

56,000 pounds (28 tons) Removed
174 Volunteers
Our volunteers are doing incredible work, see some of the amazing before and after photos below from our workshop on September 17th. A team of 12 volunteers removed this entire bunch of Arundo in 4 hours. You can also see our photo album of flow in the Tanque Verde Creek.

 
Thank you to the Arizona State Department of Forestry and Fire Management for providing funding through their Invasive Plant Removal program and thank you to the supportive landowners along the Tanque Verde Creek with whom we are coordinating removal efforts.