Watershed Management Group Staff
Watershed Management Group Interns
Ahmad Rif'an Khoirul Lisan
Rif'an was born and raised in Yogyakarta Special Province in Indonesia. His hobby of catching small fish in small streams when he was a child has inspired him to devote himself to do something for nature, especially riparian habitats. Because of this call, he pursued his undergraduate in Environmental Geography Department, Faculty of Geography, Universitas Gadjah Mada, Indonesia. Not stopping at the undergraduate level, Rif'an is currently pursuing his MS in Water, Society, and Policy in the School of Natural Resources and the Environment at the University of Arizona. He is always trying to learn from everything he experiences, because he wants to make this earth better to support current and future generations. He believes that accessing good water is a right for all global citizens.
Chloe is currently working on her Masters in Public Administration and holds a B.A. in Theatre, Film, and Television from the University of Arizona. She's particularly interested in using modes of performance to have meaningful and active discourse within communities, particularly surrounding questions at the juncture of environmental and human rights. Hailing from the pine forests of Flagstaff, she's been captured by the uniqueness of the Sonoran Desert; she is so excited to be able to advocate for this region in her internship here with WMG! When she can, Chloe enjoys traveling, camping with her dog, and making her own oat milk.
Amy is a senior at the University of Arizona studying Biosystems Engineering. As a Tucson native she has grown up learning the importance of water conservation and hopes to share that mindset in her career. Outside of school, she enjoys playing music and hanging out with her cat.
Meghan was born and raised in Phoenix, AZ. She is currently a junior majoring in Biosystems Engineering at the U of A. She hopes to merge water focused engineering solutions and community involvement in her future career. In her free time, Megan enjoys hiking, baking and spending time outdoors.
Danielle is from Silver Spring, Maryland, a twenty minute drive from the Washington D.C. border. She is thrilled to have come all this way to Tucson to see such a different and exciting environment. She is currently a Junior at the University of Arizona, pursuing a Bachelor's Degree in Hydrology and Atmospheric Sciences, emphasizing in Environmental Hydrology. She loves to engage the general population with science along with working on projects that facilitate the extraction of water while enhancing the water cycle. During her free time, Danielle loves to hike, draw, and hang out at the pool with friends.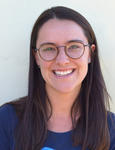 Environmental Education Intern
Mariana was raised in Mexico City, but she considers herself a citizen of the world. Her studies and international development work have allowed her to gain awareness of different realities and develop meaningful connections around the globe. She completed a BSFS in Post-Conflict International Development at Georgetown University and then completed her Peace Corps service in Guatemala. She is currently pursuing an MS in Water, Society and Policy at the University of Arizona. Mariana is a firm believer that every person in the world has the right to safe, healthy drinking water. In her free time, she loves to hike, practice yoga and spend time with her family.