Make a planned gift that feeds your soul and serves the people and place you love. Join WMG in making a long-term commitment to restore our heritage of flowing rivers and the bounty of the Sonoran Desert.
Your Best Vision of Arizona Can Come to Life
Founded in 2003, WMG is profoundly changing the course of Arizona's development by leading the way in water conservation education at our Living Lab and Learning Center, pioneering green streets with cities across the state, and rallying the public and policymakers to help restore flow to our rivers.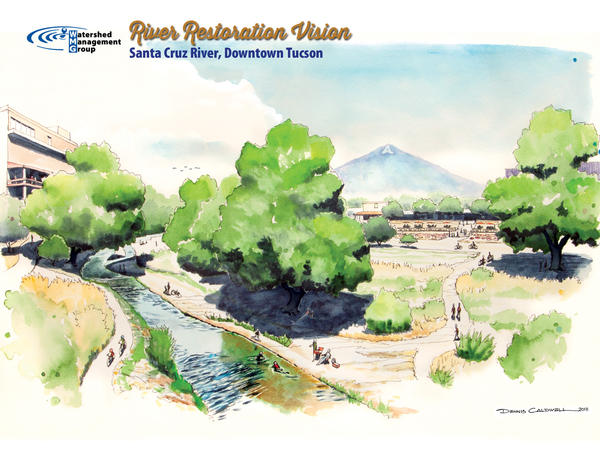 Invest in WMG's Life-changing Work and 50-Year Strategic Outcomes:
Scale-up our water conservation work across the watershed – through expanding the Green Living Co-op program, Schoolyard Program, and Water Harvesting Certification
2025: Santa Cruz Watershed Collaborative (SCWC) partners adopt and implement a shared Watershed Restoration Plan.
2030: Environmental flows policy is adopted by the City of Tucson, Pima County, and/or the State of Arizona to ensure our rivers have a right to flowing water. 
2040: Residential water use is 40 gallons per capita per day (GPCD), achieving a hydro-regional water portfolio and diminishing dependence on Colorado River water.
2050: The River Run Network reaches 20,000 members, who engage in weekly restoration activities, with restoration efforts supported by a $5 million endowment fund.
2060: Through restoration and conservation efforts, perennial flow is extended along our creeks and rivers by:

1.8 miles along Sabino Creek
6.4 miles along Cienega Creek
13.6 miles along Tanque Verde Creek
7.4 miles along the Santa Cruz River

2070: 8 square miles of mesquite bosque are restored and preserved along the Santa Cruz and Tanque Verde Rivers with management practices to foster old-growth forests.

Many Ways to Give!
WMG has a fund with the Community Foundation for Southern Arizona to accept current or estate gifts on our behalf. You may make a gift at any time designated for Watershed Management Group and you will receive a letter acknowledging your charitable gift for tax purposes.
Gifts to Donate Now
Individual Retirement Account distribution
Individual Retirement Account QCD distribution
Transfer of Securities
Grants through a Donor Designated Fund
Donor-Advised Fund
Real Estate
Gifts to Donate from Your Estate
Will or Trust
Life Insurance Policy
Individual Retirement Account
Gift of Securities
Life Estate
Charitable Gift Annuity
Real Estate
 
Plan Your Gift Today
Discuss giving options today by setting up an appointment with WMG Executive Director, Lisa Shipek, at 520-396-3266x2 or lisa@watershedmg.org.
By joining our Legacy Giving Circle, you will be recognized through our annual donor appreciation event and included in regular major donor communications.