Make a planned gift that feeds your soul and serves the people and place you love. Join WMG in making a long-term commitment to restore our heritage of flowing rivers and the bounty of the Sonoran Desert.
Your Best Vision of Arizona Can Come to Life
Founded in 2003, WMG is profoundly changing the course of Arizona's development by leading the way in water conservation education at our Living Lab and Learning Center, pioneering green streets with cities across the state, and rallying the public and policymakers to help restore flow to our rivers.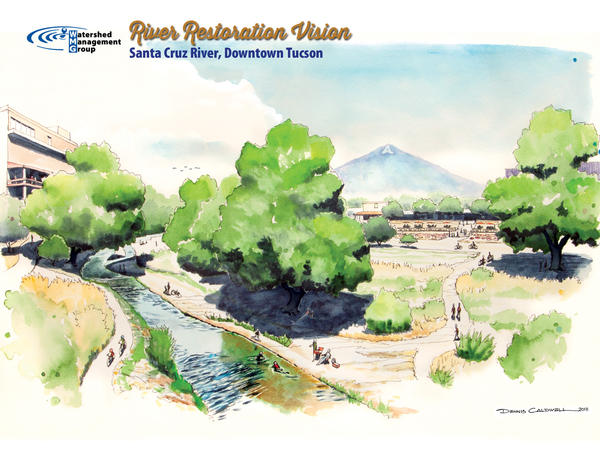 Donate Now

Many Ways to Give!
FreeWill
We're excited to share FreeWill with you as a way to make estate planning easier than ever. FreeWill's tool allows you to write a legal will online completely for free and generally takes 20 minutes or less to complete. Creating a gift in your will to Watershed Management Group is a powerful statement in your legacy and costs you nothing today. A gift in your will, also known as a bequest, can advance community-based solutions to ensure the long-term
prosperity of people and health of the environment for generations, while being a part of your lasting legacy.
Visit FreeWill.com/WMG to get started today! The giving platform will walk you through creating your will and optional gift. This tool is designed to make the process as simple and intuitive as possible.
If you've already made a will and included a gift in your estate plan, you can visit FreeWill.com/Record/WMG to tell us about your gift, so that we can properly thank you!
Gifts to Donate Now
Individual Retirement Account distribution
Individual Retirement Account QCD distribution
Transfer of Securities
Grants through a Donor Designated Fund
Donor-Advised Fund
Real Estate
Gifts to Donate from Your Estate
Will or Trust
Life Insurance Policy
Individual Retirement Account
Gift of Securities
Life Estate
Charitable Gift Annuity
Real Estate
 
Plan Your Gift Today
Discuss giving options today by setting up an appointment with WMG Executive Director, Lisa Shipek, at 520-396-3266x2 or lisa@watershedmg.org.
By joining our Legacy Giving Circle, you will be recognized through our annual donor appreciation event and included in regular major donor communications.