Build Your Own Basin to grow shade trees, recharge our aquifers, and beautify your neighborhood!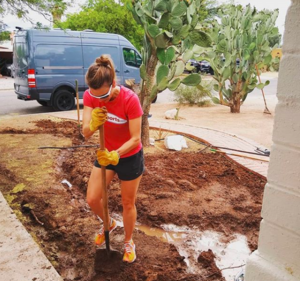 Building your own basin is a quick and simple project that can be done at your home, school, church, or other places around your neighborhood! By creating basins, and the rain gardens they support, you will help create a patchwork of native habitat that cools homes and sidewalks, and cleans and stores rainwater as it returns to the watershed—all while conserving water!
By harvesting water—rainwater or greywater from baths, sinks, and washing machines—you can support a wide variety of plants! Want to learn how much rainwater or greywater you can harvest at home?
To BYOB, simply follow these eight steps: observe the rain, choose your location, dig, plan for overflow, create gentle slopes, plant like nature, add mulch, and, finally, observe and adjust. Check out the events below for virtual workshops and events.
We're so excited to spread the word of BYOB to all members of the WMG community, including limited-income neighborhoods, who often face more flooding and less tree cover, and students. In partnership with Arizona Project WET Recharge the Rain teachers, students can design and build their own water harvesting basin at home with the help of our BYOB kits. Learn more about our schoolyard BYOB project here.
Build Your Own Basin Videos
Check out basin-building how-to videos below.
BYOB Step-by-Step Guides
Check out our how-to Build Your Own Basin guides.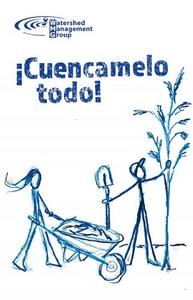 Cuencamelo todo