Build Your Own Basin to grow shade trees, recharge our aquifers, and beautify your neighborhood!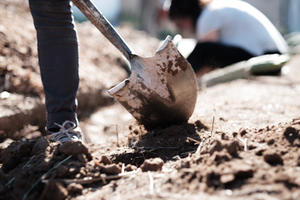 Building your own basin is a quick and simple project that can be done at your home, school, church, or other places around your neighborhood!
Rainwater (and greywater, which is water from baths, sinks, and washing machines) can be used to support your basins and other plants in your yard. Want to learn how much rainwater or greywater you can harvest at home?
To BYOB, simply follow these eight steps: observe the rain, choose your location, dig, plan for overflow, create gentle slopes, plant like nature, add mulch, and, finally, observe and adjust. For more details, check out the workshops below.
Build Your Own Basin Videos
Check out basin-building how-to videos below.