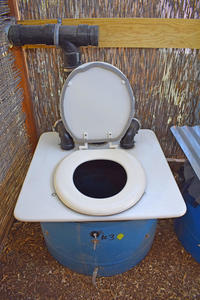 * Kits are for local pickup only! *
Submit your request for a Take Home Composting Toilet Barrel Kit. Once we receive your request we will confirm your details, estimate a build time (typically 1 month or less), and provide you with payment details. (Check out this story by Arizona Public Media on composting toilets!)
Designed, tested, and refined over the years by David Omick, a local southern Arizona expert, the barrel composting toilet system is practical and cost-effective. This toilet design features a series of 55-gallon high-density polyethylene barrels as the collection and composting container. A customized HDPE panel top serves as a removable lid and a seat, vent, and light trap platform. To compliment the barrel composting toilet design a low-cost, practical urine diversion system is included to provide additional nutrients to your plants. Visit our online Resource Library to learn more about the composting toilet barrel kit system.  You may also schedule a visit to our Living Lab and Learning Center if you would like to check out our working model.
In addition to the kit, we will review the following with you:
siting and installation tips
maintenance and troubleshooting tips
benefits to you and the community
resource links to DIY instructions, suppliers, use and maintenance, and weblinks
If you are potentially interested in purchasing a kit (Compost Crank included upon request) to take home please note the following costs:
2 barrel system -

$911.00

 

3 barrel system - $ 1095.00
Please note that these systems are listed on Arizona Department of Environmental Quality's (ADEQ) approved composting toilet list, which means you may be able to permit your system for use. If you decide to permit your system then a typical permit may cost $500 if you reside in Pima County Department of Environmental Quality (PDEQ permit) or up to $1000 if your county delegates authority back to Arizona Department of Environmental Quality (ADEQ).