Apply for the WaterWRLD Internship Program starting February 2022!  Check out the recording of our virtual Internship panel from 2021 to receive more details and specifics about the program. View here.
Program Overview
This experiential internship program is designed to provide University of Arizona students with real-world work experience and community engagement opportunities, while earning 3 credit units per semester. Interns work directly with WMG staff, docents, volunteers, and partners on community-based conservation and environmental justice projects. Activities will be done in-person with virtual options if it's not safe to meet in person. This is an unpaid internship position.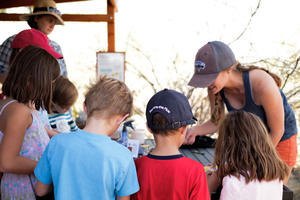 Students participating in this internship program will:
Work with a WMG staff mentor through one of the intern jobs featured below with specific goals and project work.
Join weekly experiential education workshops on Friday afternoons from 3 - 5 p.m., learning alongside other interns and docents. Build understanding of community-based conservation and river restoration opportunities for the Santa Cruz Watershed, as well as engaging on urban ecology and environmental justice issues.
Participate in fall and spring semesters, with the opportunity to earn 3 credit units each semester.
Complete 150 hours of internship work each semester, which averages about 10 hours per week.
Who is Eligible
Sophomore, junior, senior, and graduate students at the University of Arizona are eligible to apply. Students from any major or program are welcome. Students must be in good standing, with a 2.7 GPA or higher.
Internship Options
Through the application process, interns will be paired with a WMG staff member to work on one of the job descriptions outlined below.
Sample Internship Job Descriptions
Climate Adaptation (Full position description)

Identify and enhance current strategies to be used to ensure WMG's green infrastructure, restoration, and related strategies meet challenges of climate change. 

Diversity, Equity, and Inclusion (Full position description)

Assist in the development and implementation of policies and practices to build a more diverse, inclusive, and equitable organization in fulfillment of WMG's mission and values. 

Environmental Education and Spanish Communications (Full position description)

Assist in developing hands-on curriculum and activities to engage the Latinx community.

Green Living Co-op Community Engagement (Full position description)

Organize events for the Green Living Co-op and Monsoon Squad program and develop educational materials related to both programs. Assist with community outreach and promoting conservation efforts at our homes and in our neighborhoods. 

Media Communications (Full position description)

Support WMG's programs by developing engaging communications, gathering and editing photos, graphic design for programs and special events, and other marketing efforts. 

 River Restoration Planning, Site Assessment, Design and Implementation (Full position description)

Assist with hands-on restoration planning and implementation activities, citizen science monitoring and education programs, and watershed research and analysis to support river restoration plans. 

River Run Network Community Engagement (Full position description)

Help build the River Run Network program through assisting with community outreach, education, and advocacy, supporting the long-term goal to restore Tucson's heritage of flowing creeks and rivers.

Urban Sustainable Living (Full position description)

Assist in the care and maintenance of green living systems at WMG's Living Lab, participate in our Build Your Own Basin (BYOB) campaign, help guide tours of our Living Lab, and lead our Zero Waste Initiative. 

Watershed GIS Support Analyst (Full position description)

Develop and update interactive GIS-based StoryMaps and data using ESRI ArcGIS Pro and ArcGIS Online with a focus on river restoration and watershed planning. 
Application Instructions
The application period for WMG interns for the 2022-2023 academic year will open February 2022. The earlier you submit your application, the more likely you will get accepted into the program. Your application packet should be emailed directly to Cindy Hu at chu@watershedmg.org
Your application packet should include the following:
A one page résumé
A cover letter
Coordination with the University of Arizona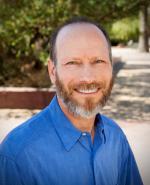 The WaterWRLD program was designed in 2015 in partnership with professors from the UA's School of Natural Resources and the Environment. The program is open to students from any department, however, WMG works closely with our UA Liaison, Gregg Garfin Ph.D., Associate Specialist and Associate Professor in Climate, Natural Resources and Policy, School of Natural Resources and the Environment. Our UA Liaison provides feedback on the program, helps coordinate student orientation, and provides mentoring opportunities for students in the program.
Staff Mentors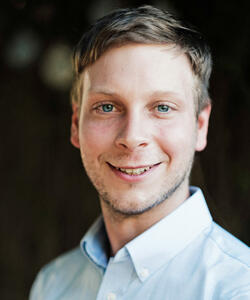 Charles Alcorn
Program Coordinator
Charlie graduated from Dickinson College in 2012 with a B.S. in Physics and has worked in environmental education and non-profit communications. He ventured from Pennsylvania to Tucson in early 2016 and has become enchanted by the Sonoran Desert and Tucson community. Charlie is passionate about using community education to help drive sustainable decision-making on an individual basis and in city decision-making.Charlie will be the first person to contact for anyone interested in WMG's Green Living Co-op and for anything related to the Monsoon Squad. Charlie likes playing soccer, cooking, and dancing with his two left feet.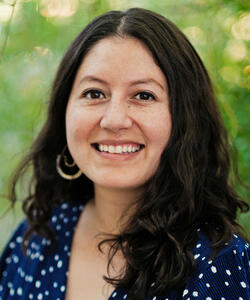 Cindy Hu
Community and Youth Education Manager
Cindy is a first generation Mexican American from a small agricultural city in California. She is passionate about teaching environmental science lessons while surrounded by nature. Cindy received a BS in Environmental Studies at San Jose State University. She has over 10 years experience as a K-12 outdoor and science instructor and providing STEM opportunities for underrepresented communities. She completed two years of service as a Peace Corps volunteer in Tanzania, Africa. After Peace Corps, she received a Master's in Education at the UA and earned her AZ Teaching Certification. She is trilingual, a native Spanish speaker with proficiency in conversational Swahili. In her free time, Cindy enjoys traveling, hiking, and spending time with her newborn son.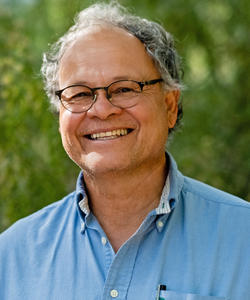 Joaquin Murrieta-Saldivar
Cultural Ecologist
Joaquin specializes in building resilience in diverse communities by enhancing the connections between people, culture, and natural resources. Joaquin brings vast experience on the multicultural border region between the US and Mexico, where he has implemented community-based approaches to watershed management, river restoration, geo-tourism, conservation of native peoples, and best practices for the ranching community. His past work has been with the Sonoran Institute and as a consultant for National Geographic Society and other organizations. Joaquin is a graduate of the University of Arizona with MSc in Natural Resources and Agricultural Economics and a PhD in Renewable Natural Resources Studies with an emphasis on management, policy and economics of natural resources. A native of Sonora, Mexico and resident of Arizona, Joaquin is fluent in both Spanish and English.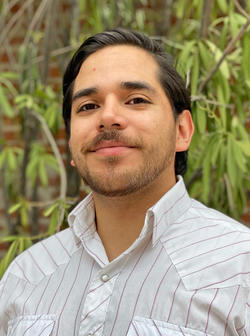 Luis Salgado
Green Infrastructure Coordinator
Born and raised in the Colorado River Delta region, Luis always wondered why his native hometown of San Luis Río Colorado was named after a river that seldom flowed through there. As a result, Luis completed a B.S. degree in Environmental Hydrology and Water Resources at the University of Arizona in 2017. During his time at the university, Luis began to understand the complex relationship between rivers and their users, and decided to pursue a career that emphasizes community-centric, ecological approaches to educating the public about environmental issues of the Southwest and natural resource conservation. Luis is fluent in both Spanish and English, and you can find him reading, writing, cooking, or playing drums at home when he's not digging through crates at record stores or looking for a good place to set up a hammock on top of a nearby mountain.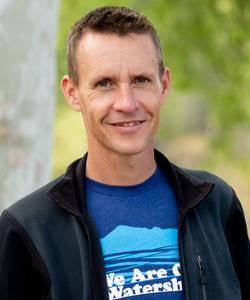 Catlow Shipek
Policy and Technical Director
Catlow Shipek is a founding member of Watershed Management Group. He received a MSc in Watershed Management from the University of Arizona. Catlow has over ten years of experience in applied watershed management, planning and policy specializing in urban applications like water harvesting, green infrastructure, stream restoration, and eco-sanitation. Catlow has worked on several successful local policy initiatives including Tucson's Green Streets Active Practice Guidelines, Tucson Water's residential rainwater rebate program, Tucson's residential greywater ordinance revision process, and through the Complete Streets Taskforce the adoption of Tucson's Complete Streets Policy. Catlow has served on the Citizens' Water Advisory Committee for Tucson Water including Chair of the Conservation & Education subcommittee and on the University of Arizona's School of Natural Resource and the Environment's advisory board. Catlow currently serves on the Complete Streets Coordinating Council following the 2019 adoption of the Complete Streets policy. Catlow's passion is to link people to their local environment for improved stewardship and prosperity.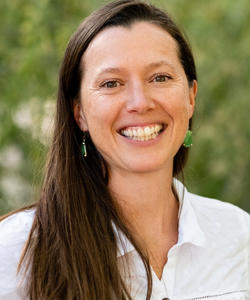 Lisa Shipek
Executive Director
Lisa Shipek is a founding member of Watershed Management Group and has served as the Executive Director since 2006. Lisa directs fundraising, strategic development, financial planning, and outreach activities for WMG. She co-directs the River Run Network program, manages the development of the Living Lab & Learning Center, and oversees the growth of the Phoenix branch. Her specialized skills include developing experiential education programs; building community coalitions; and adapting technical information for public consumption. She holds a B.S. in Environmental Science and an M.A. in Latin American Studies. Lisa gives back to the community through serving on advisory boards, which has included: Tucson's Environmental Services Advisory Committee, Tucson's Transit Task Force, Tucson Conserve to Enhance, and the Community Water Coalition. She fills her free time with playing ultimate frisbee and dancing and enjoys gardening, bike touring, and camping with her husband Catlow.
Elisa Stokes 
Communications and Campaign Manager
Eliza is a lifelong advocate with a passion for making environmental concepts and spaces accessible to the general public. Eliza most recently worked at an environmental organization in North Carolina, where she managed communications, led the renewable energy program, and coordinated advocacy campaigns regarding river protection, better public transit, safeguarding regional forests and more. She previously worked as a freelance writer and editor and as the Assistant Director of the Writing Center at Warren Wilson College, and also graduated from Warren Wilson with a double major in Latin American Studies and Creative Writing. Eliza is elated to join the Watershed Management Group and to get to work restoring her local watershed. In her free time, Eliza can be found exploring the Sonoran Desert, rock climbing, and hanging out with her mellow Great Pyrenees named Maggie.
---
For more information, please contact the Cindy Hu, at chu@watershedmg.org