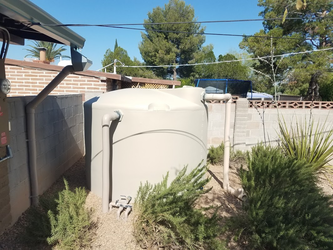 We are working to make water harvesting accessible to everyone. If you qualify for the Rain Money Program, WMG will provide you a low-cost Project Plan package to get you a design for irrigating your landscape with rainwater and greywater. The Rain Money Program also allows us to install your rain tank or landscaping through our Green Living Co-op with a 50% discount on our staff labor.
Please review the household income chart to determine your eligibility for this program.
If you are interested in getting support to finance your project, you can apply to get a grant and no-interest loan with the Sonoran Environmental Research Institute (SERI). The grant and loan will help cover the upfront cost of getting your system installed and get you set up to make small payments to pay back the loan. 
Tucson Old Pueblo Credit Union (TOPCU) also has a low-interest loan for rainwater harvest you can check out here!
You can learn the why and how of water harvesting and sustainable living by checking out our free virtual field studies classes, online workshops, and rebate classes on our events page. Join our Co-op Workshops to get hands-on experience installing rainwater tanks, shaping your landscape, and setting up your clothes washing machine to irrigate your landscape from our Project Managers. The Build Your Own Basin initiative helped bring information, tools, and materials to dig your own basin and plant a shared tree to your yard or neighborhood.