We have 4 remaining spots available for our 2019 limited income grants. Apply now before they fill up!
Everyone should be able to harvest rainwater at home!



Work with WMG's expert designers and project managers to design and install a rain garden or tanks that work for you, within your budget, through our Co-op program.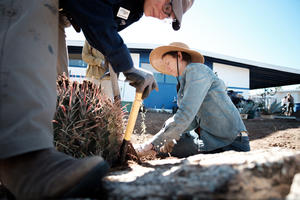 WMG is discounting our services for qualifying households so we can offer installation packages with minimal expense. We can also assist you in receiving a rainwater harvesting rebate from Tucson Water, which can cover between $500 and $2,000 of project costs. Remaining project expenses can be covered through the interest-free water harvesting loan option with Sonoran Environmental Research Institute (SERI). 
For households who qualify, we provide a $50 on-site consultation with our expert designers (normally valued at $275); rain garden and rain tank installation workshops through the Co-op program, and project financing through rebates and loans.
Please review the household income chart to determine your eligibility for this program. 
If you are not eligible for a grant, click here to learn more about financing through Tucson Old Pueblo Credit Union's Green Loans!
Your Process from Start to Finish:
Fill out the application to be considered for our 2019 program.
WMG will inform you if you are

approved and contact you to attend a program info session and rainwater harvesting rebate class and schedule a consultation with a designer.

Sign up for the WMG's Tucson Co-op and start earning hours towards the 16 total you will need in order to host an installation.

Have on-site consultation and choose your rainwater harvesting workshop package for rain gardens and/or rain tank installation.

WMG prepares final scope of work and project costs.

Review final scope of work and sign project contract with WMG/loan contract with SERI, schedule project installation date. 

Project completed through hosting a Co-op workshop with other volunteers at your property.
WMG will help you fill out the Tucson Water rebate

and apply it to your project cost.

Make monthly loan payments to SERI (if applicable)
---