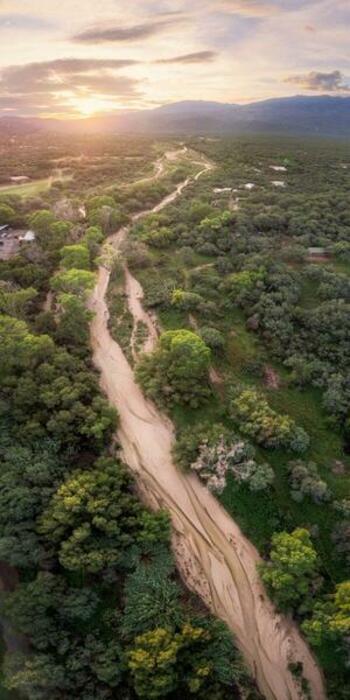 WMG is one of three winners of the Colorado River Basin Water Scarcity Challenge, offered by The Gates and Walton Family Foundations. The selected organizations will work with Quantified Ventures (QV) – at no charge, thanks to grant funding – to design, finance, and scale investible, cost-effective solutions that deliver beneficial outcomes for Colorado River Basin ecosystems and communities.

WMG has been working towards a hydro-local future, where we value and steward our local water resources in the Tucson area instead of depleting distant watersheds, like the Colorado River. Water conservation and groundwater recharge strategies are proven to work in the greater Tucson area, however there is a real need to develop innovative funding/finance solutions at scale in sensitive groundwater areas, especially for people without access to conservation programs, like those on wells or with small water utilities.

WMG's project focuses on restoring seasonal and perennial flows to the Sabino and Tanque Verde Creek systems and building hydro-resilience in the Tucson metro area. Through this effort we will develop and implement projects and programs that increase the resilience of Tucson's water portfolio, particularly its groundwater resources. Restoring seasonal and perennial flows to the Sabino and Tanque Verde Creek systems requires a stable groundwater aquifer. WMG and QV will collaboratively quantify outcomes, engage key stakeholders, develop funding/financing approaches, and implement a suite of projects and programs – such as groundwater conservation programs, green stormwater infrastructure, and recycled water strategies – that support local water resilience and reduce dependency on Colorado River water supplies.

This work builds on our River Run Network program, our work with the Santa Cruz Watershed Collaborative, and our 50-year strategic plan to restore Tucson's heritage of flowing creeks and rivers.

Tucson, like many Western communities, has historically over pumped our groundwater supplies and dried up our rivers. Yet in the last few decades some creek flow has returned in the Sabino and Tanque Verde Creeks, and some groundwater areas have stabilized thanks to conservation and restoration efforts. We want to protect and build on those gains, instead of reversing course with Colorado River shortages.
 
*If you are interested in being part of this effort, join our River Run Network. Members work together to learn about and steward our creeks and rivers through creek walks, restoration activities, river clean-ups, and educational workshops.