Saving water is as easy as doing a load of laundry or paying a visit to the bathroom.
Laundry-to-Landscape (L2L) greywater kits are easy to install, and supplementing your landscape with greywater can add up to thousands of gallons of water for irrigating your favorite food-producing native or shade tree. We have all the resources to help you learn the why, what, and how to install a L2L kit at your home. Learn more and order your Laundry-to-Landscape kit here.
No-flush composting toilet systems are the next step beyond low-flush. Toilet flushes are a major water user in homes, and every flush dirties the water that our utilities spend energy and resources to clean and transport to your home. Installing a 2 or 3 barrel composting toilet gets you set up to save water and produce a compost fertilizer that benefits your landscape. Our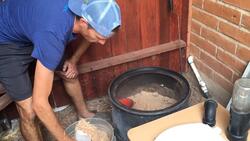 kits are approved for permitting with the ADEQ, and are great in backyards in the city or in rural settings. Learn more and order your composting toilet kit here!