(Español abajo)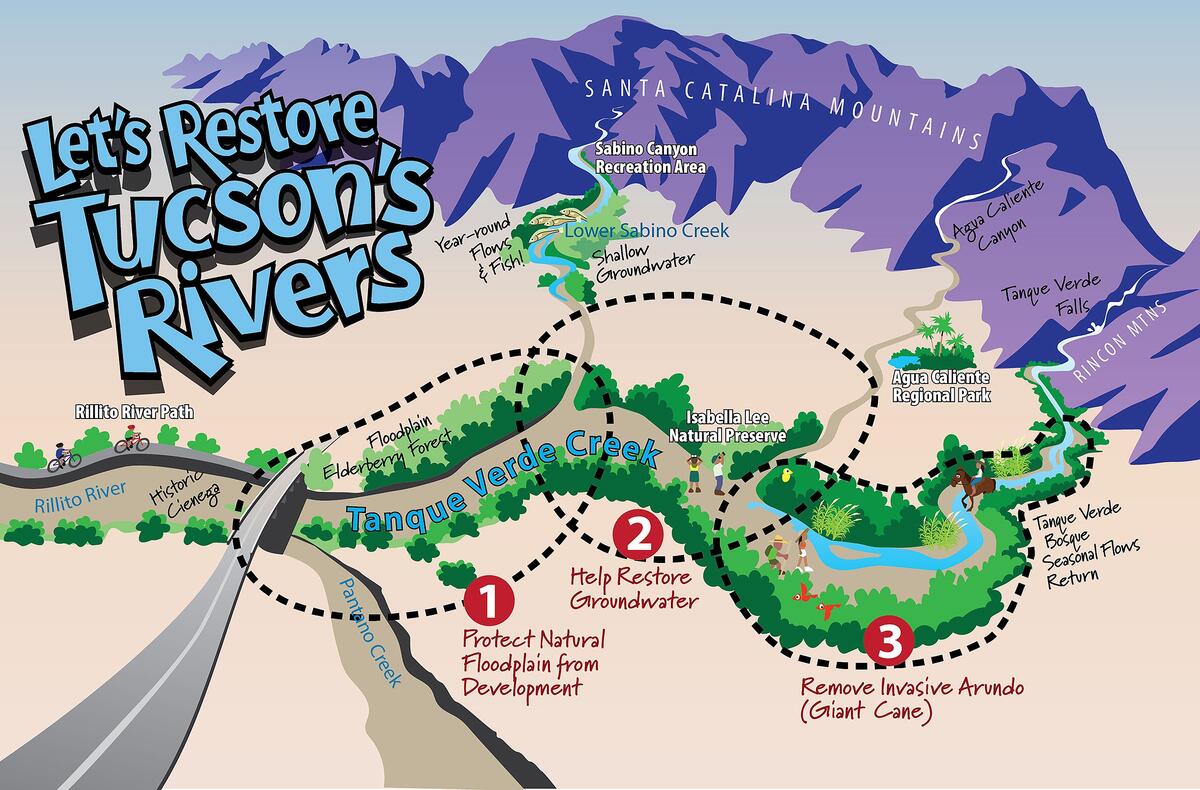 Check out our new graphic of the Tanque Verde Creek here in Tucson, which indicates the 3 ways we are working with the community to restore the flow of this beautiful creek. Click on the image to make it larger.
You can Subscribe to our Tucson Action Bulletin to receive an email every week with information about the different workshops we offer so we can get into action together!
Three Ways We Can All Work To Restore The Flow
1.- Protect the Natural Floodplain from Development. Help advocate to the City and County to protect our floodplain and ensure new residential and commercial developments do not encroach on the river. 
2.- Help Restore Groundwater. We can raise groundwater levels quickly in this shallow groundwater area if we reduce groundwater pumping and recharge more water through rain gardens and green infrastructure. 
3.- Remove Invasive Arundo. Join WMG's effort to remove the invasive Arundo donax (giant cane) from the Tanque Verde Creek at one of our weekend workshops.
~
Checa este gráfico del Arroyo Tanque Verde aqui en Tucson, donde se indican las 3 maneras en las cuales estamos trabajando junto con la comunidad para restaurar el flujo de este bello arroyo. Haz click en la imagen de arriba para hacerla mas grande.
Suscribete a nuestro Boletín de Acción en Tucson, para que recibas cada semana informacion sobre los distintos talleres donde nos ponemos manos a la obra.
Tres Formas En Las Que Todos Podemos Trabajar Para Restaurar El Flujo
1.- Proteger las Llanuras de Inundación Natural del Desarrollo. Ayuda a abogar ante la ciudad y el condado para proteger nuestra llanura aluvial y garantizar que los nuevos desarrollos residenciales y comerciales no invadan el río.
2.- Ayuda a Restaurar las Aguas Subterráneas. Podemos elevar los niveles de las aguas subterráneas rápidamente en esta zona donde el manto acuífero se encuentra a poca profundidad si reducimos el bombeo y recargamos más agua a través de jardines de lluvia e infraestructura verde.
3.- Eliminar la Planta Invasora Arundo. Únete al esfuerzo de WMG para eliminar la invasora Arundo donax (caña gigante) de Tanque Verde Creek en uno de nuestros talleres de fin de semana.
--