Springtime has been an important fundraising season for WMG, as we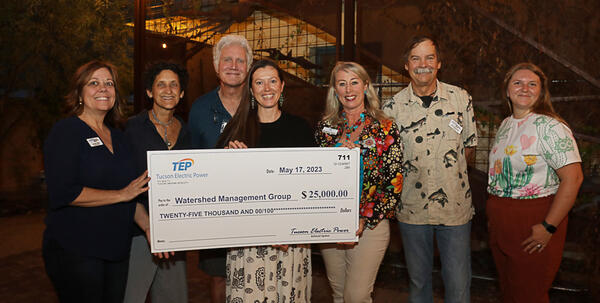 raise funds to support our programs and at the same time raise funds to build our Learning Center. We are getting close to the finish line with both of these campaigns, and we're reaching out to share the good news and ask for your support if you haven't yet had a chance to donate.
Kudos to the 275 donors who have given so far to our spring campaign, helping us raise $108,500 towards our $125,000 spring goal. That leaves just $16,500 to go!
Tucson Electric Power just gave us a $25,000 match to help us cross the finish line with our capital campaign, and Steve Kozachik's Ward 6 Office just gave $10,000 to help us reach our goal as well. We have raised $498,000 of our $525,000 capital campaign goal to build the Learning Center and surrounding green features at our Living Lab. That leaves just $27,000 to go!
Your contribution matters, and donations of all sizes are important to us. Please donate to our spring campaign and/or our capital campaign here or send your check in the mail to Watershed Management Group, 1137 N Dodge Blvd, Tucson, AZ 85716.
Many thanks from the WMG team.