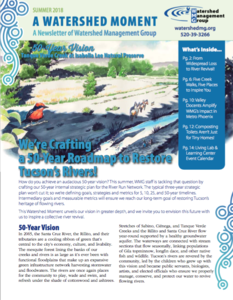 2018 Summer WMG Newsletter
We're Crafting a 50-Year Roadmap to Restore Tucson's Rivers!
How do you achieve an audacious 50-year vision? This summer, WMG staff is tackling that question by crafting our 50-year internal strategic plan for the River Run Network. The typical three-year strategic plan won't cut it; so we're defining goals, strategies and metrics for 5, 10, 25, and 50-year timelines. Intermediary goals and measurable metrics will ensure we reach our long-term goal of restoring Tucson's heritage of flowing rivers.
This Watershed Moment unveils our vision in greater depth, and we invite you to envision this future with us to inspire a collective river revival.