You can help us win big for Arizona Gives Day—and bring flow back to our desert rivers.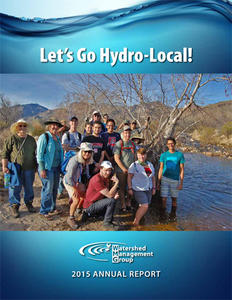 We've set a big goal of raising $70,000 to support our grand vision and pragmatic programs. When you donate to WMG, you support our Hydro-Local approach to meet our communities' water needs with renewable water supplies while restoring our rivers, replenishing our groundwater, and creating a healthy watershed. And yes, this is all possible—with your help! You can learn more about going Hydro-Local in our 2015 annual report, just dive in here.
And here's a little AZ Gives Day teaser: tomorrow we'll be sharing our Sabino Creek Flow Budget. Over the last year we've been crunching the numbers and conferring with the experts to put together a water budget for Sabino—with the end goal of supporting year-round flow in the creek. I can't wait to share what we've discovered. Keep a close watch on your email and social media for the latest news on our 50 Year Program, fun videos, stories, and updates on our 24-hour fundraising campaign.

Sincerely
Lisa Shipek
Executive Director
P.S. On AZ Gives Day, we're going to make going Hydro-Local all the rage with your help. If you're in town, come join us at one of our Happy Hour parties in Tucson or Phoenix tomorrow!