The Learning Center will ensure WMG's experiential education programs can be expanded to accommodate regular school groups, family activities, professional collaborations, and the unique needs of today's in-person and virtual classes.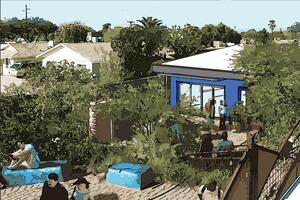 The final major buildout of the Living Lab and Learning Center is currently underway, with the addition of the Learning Center, a multi-purpose space that supports our growing in-person and virtual workshops, classes, and community events. The Learning Center will be a space to learn about and experience sustainable solutions, like water harvesting, solar power, green building, and zero waste, while creating an inclusive space that welcomes our diverse community.
Thanks to gifts from major donors, we have raised $436,000 towards our $525,000 goal. Make a gift today to contribute to this amazing community asset and help us reach our goal. Donate online on the button below, or reach out to Lisa Shipek, WMG's Executive Director, to discuss your gift at 520-396-3266 x 2.
Donate to help build the Learning Center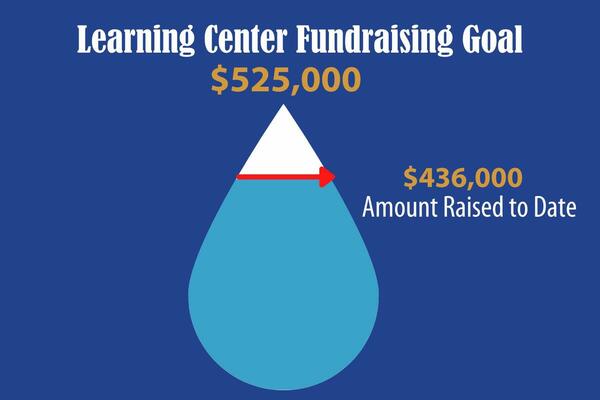 Learning Center Renderings
Business Sponsors
We are so grateful to our generous business sponsors! The Arizona Lottery Gives Back Sponsorship is contributing $50,000 towards our construction and tank installation costs. Net Zero Solar is generously donating solar panels and installation for the Learning Center and Pioneer Water Tanks is donating a 5,000-gallon steel tank!
Timeline of completed projects
Property gifted from the estate of Marguerite Fisher, March 2012, neighboring property purchased with lead donation, March 2013
Landscape transformed with earthworks, shade trees, and habitat plants, November 2013
Special Exception Zoning Status achieved, December 2013
10,000-gallon underground cistern constructed with Tucson Water grant, March 2014
Sonoran Food Forest with greywater installed by youth job training program, March 2014
Development plan approved by City of Tucson, Sept 2014
Central plaza installed - our largest outdoor classroom, October 2014
Water Harvesting Certification and monthly water harvesting classes offered at Living Lab, Fall 2014
Children's water conservation playhouse constructed, November 2014
Historic adobe building rehabilitated, November 2014
Monthly Living Lab tours started, July 2015
Launched Living Lab Docent & UA Internship program, September 2015
Rainwater filtration system installed to make rainwater our main supply for indoor and outdoor water needs, October 2015
Weather station installed and comprehensive monitoring program developed with the assistance of UA interns and WMG Docents to monitor water, energy, and plant growth, Spring 2016
Welcome Center and handicap accessible composting toilet completed, 2018
Permeable parking lot constructed, 2018