As spring flowers proliferate across the desert, our thoughts turn toward keeping our Tucson public rain gardens beautiful. This means we need to grow our Monsoon Squad, and it's the perfect time for you to be a part of it. New members bring life and energy to our community of dedicated rain garden heroes, and we want to welcome you to the Squad.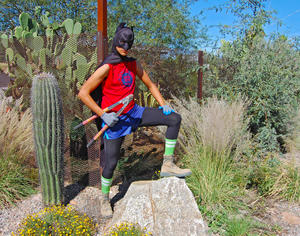 If you'd like to join this elite team, please fill out the Monsoon Squad application online and join us at the orientation.
Monsoon Squad Orientation and Seed Swap
Monday, April 11, 2016
5:00 – 7:00 p.m.
WMG's Living Lab, 1137 N Dodge Blvd
Please RSVP online
We'll be swapping wildflower and veggie seeds, so please bring seeds you saved from last year to trade in for new, cool varieties! Not a seed-saver? Don't worry, we'll have extra seeds for everyone.