As spring makes its slow transition into summer, we finally have a minute to look back on the flurry of fun and excitement of April.
At Tanque Verde Flow and Feast on April 2nd, we celebrated our love of flowing desert rivers with a fun and inspiring community event at Tanque Verde Creek. About 200 WMG supporters, Co-op members, and friends joined us for an evening of good food, drinks, poetry, and campfire fun. This event highlighted our 50 Year Program which aims to restore flow to Tucson's rivers—and offered a chance to gather our extraordinary community together. Cheers to everyone who came out! Check out the beautiful gallery of photos, courtesy of Nicci Radhe.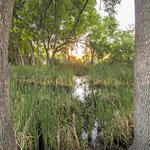 And, if you haven't checked it out yet, please take a few minutes to watch our Flow365 video. We created this little gem to inspire people to donate on Arizona Gives Day 2016 and encourage you to get involved with our efforts to restore the flow!