The Water Harvesting Apprenticeship program provides a valuable opportunity to grow skills and confidence in water harvesting system construction for career development.
Notice: This opportunity is current on hold until future notice
Program Description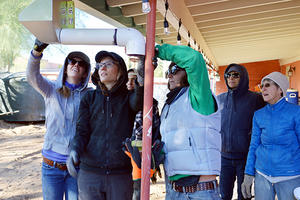 Through the apprenticehip program, participants will work alongside our trained professionals installing and maintaining water harvesting systems including rain tanks, earthworks, greywater, and native and edible gardens. They will work with our Project Managers and Designers and Water Harvesting Crew members on Design Build and Co-op projects. Apprentices commit to a 3-month, unpaid apprenticeship program including 10 field hours per week as well as 20 hours of classroom time with WMG instructors.
Apprenticeship applicants must be high school graduates with demonstrated interest in long-term work in the landscape or construction trades. Preference will be given to applicants with particular interest in rainwater and greywater harvesting. This program is made possible in part by funding from Tucson Water for our new Limited Income Grant program, which will extend our water harvesting implementation services to qualifying households. Preference will also be given to applicants with demonstrated experience and interest in long-term work serving underserved populations.
At the end of the apprenticeship, apprentices can choose to take the exam for our Water Harvesting Practitioner Certificate. Whether certified or not, apprentice graduates will walk away with first-hand field experience and relationships with local contractors.
Application Requirements
Resume
Three references (name, email, and phone number - please include at least one professional reference)
4-8 hour field interview with our team
High school graduate or GED
Commit to 10 hours per week for 3 months
Experience with hand tools
Contact Catlow Shipek, 520-396-3226 x4 for more information/questions.