Due to COVID-19 restrictions, the Living Lab is currently only open to the public by appointment. 
WMG's Living Lab and Learning Center is our cream of the crop demonstration site and beats the pants off LEED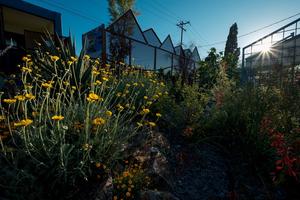 standards! Our interactive tours showcase our systems in detail. Tour highlight: the Living Lab is water self-sufficient! We have rainwater on tap and currently meet 100% of our water needs with rainwater, greywater, and stormwater. By the time you leave, you'll be overflowing with project ideas for your home.
The Living Lab is also our office headquarters and was named AZ's Greenest Workplace in 2015 by Mrs. Green's World. A dozen staff members work on campus regularly using the composting toilet, outdoor shower, solar oven, and produce harvested from the food forest.
Bring the kids to enjoy playing at the Raindrop Retreat — a children's playhouse featuring a rain tank, play kitchen with greywater, and earthworks sandbox. We provide rainwater education for all ages!
The tour takes place outside, so be prepared for the weather and to be standing or walking for over an hour. And bring a friend!
Tour Schedule
You can visit the Living Lab by booking a one-hour time slot for our contact-free audio tour of the Living Lab and Learning Center. Find more information and reserve your spot here! 
Cost
Free!
Location
WMG's Living Lab and Learning Center
1137 N Dodge Blvd, Tucson
Special Tour Requests
If you would like to request a special tour for your group or organization, please fill out this request form.
Questions?
Contact Lauren at lmonheim@watershedmg.org or 520-396-3266 x9