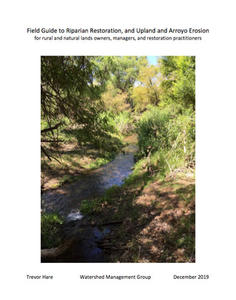 riparian_restoration_and_erosion_control_guidebook_jan21.pdf
For rural and natural lands owners, managers, and restoration practitioners
We live in a unique part of the world, one of the world's most diverse and wet deserts. People settled in this region thousands of years ago because of one amazing thing –water in the desert! The water that attracted our predecessors in now mostly gone. The two reasons for that are over-pumping our groundwater and the degradation of our washes, creeks, wetlands and rivers.
This short guide has been developed to help landowners and managers, businesses and homeowners, and others interested in how to better manage stormwater to reduce erosion and benefit downstream riparian areas. The current state of our channels and their associated habitat is grim but we can get back some of what we have lost with relatively simple strategies.
The key action we can take to protect and restore our landscapes and downstream riparian forests and wetlands are to enhance infiltration through slowing, spreading and soaking in storm water flows as well as reducing our groundwater demands in critical shallow groundwater areas. Most of our restoration and erosion control strategies not only benefit the creeks and wetlands but also help to retain soil moisture for healthy upland vegetation.