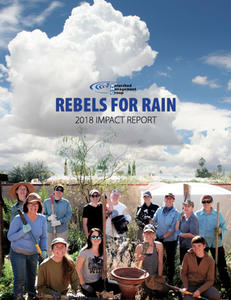 2018 WMG Impact Report
Rebels for Rain, Let's Reclaim our Rivers!
When WMG started the Green Living Co-op a decade ago, Tucson was thirsty for rainwater harvesting know-how and we brought it! For the last 10 years, the Co-op has helped push water harvesting from the environmental fringe into the mainstream. During that time, WMG instructors taught 366 water harvesting workshops to thousands of people, creating a groundswell of rebels for rain.
The Co-op work is a fundamental building block to our grander, 50-year vision of restoring Tucson's heritage of owing creeks and rivers. Now we're challenging all of you, our rebels for rain, to think bigger – to think like a watershed – and channel your energy and passion into the River Run Network movement.
WMG is doing the same – we are focusing more time, energy, and resources as an organization to further our 50-year vision. We have tightened up our programs to do what we do best – as teachers, transformative leaders, and changemakers. In 2018, we decided to phase out our Design Build program to devote more energy into the Co-op and River Run Network. Our Design Build program furthered the water harvesting and native landscaping industry, and now we're helping other local businesses flourish by sending referrals and continuing to offer green job training.
WMG's river restoration vision stands strong because our water future is in all of our hands. You're an essential part of the movement to reclaim our rivers and that's why I'm proud to share with you some highlights from 2018, as well as a taste of what's to come if we stay the course together.