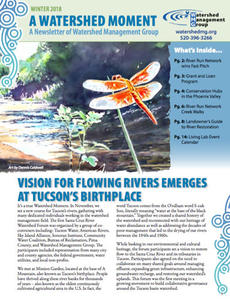 2018 Winter WMG Newsletter
Vision for flowing rivers emerges at Tucson's birthplace
It's a true Watershed Moment. In November, we set a new course for Tucson's rivers, gathering with many dedicated individuals working in the watershed management field. The first Santa Cruz River Watershed Forum was organized by a group of co-conveners including: Tucson Water, American Rivers, Sky Island Alliance, Sonoran Institute, Community Water Coalition, Bureau of Reclamation, Pima County, and Watershed Management Group. The participants included representation from many city and county agencies, the federal government, water utilities, and local non-profits.
We met at Mission Garden, located at the base of A Mountain, also known as Tucson's birthplace. People have thrived along these river banks for thousands of years – also known as the oldest continuously cultivated agricultural area in the U.S. In fact, the word Tucson comes from the O'odham word S-cuk Son, literally meaning "water at the base of the black mountain." Together we created a shared history of the watershed and reconnected with our heritage of water abundance as well as addressing the decades of poor management that led to the drying of our rivers between the 1940s and 1960s.
While basking in our environmental and cultural heritage, the forum participants set a vision to restore ow to the Santa Cruz River and its tributaries in Tucson. Participants also agreed on the need to collaborate on many shared goals around managing effluent, expanding green infrastructure, enhancing groundwater recharge, and restoring our watershed's uplands. This forum was the first meeting in a growing movement to build collaborative governance around the Tucson basin watershed.