You're invited to join us in supporting local farmers and fresh, tasty food through a CSA partnership with Sleeping Frog Farms. 
Sleeping Frog Farms CSA quick facts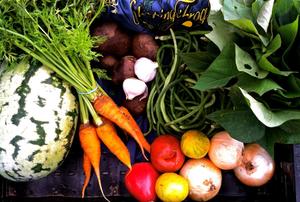 Season: 3 months (year-round)
Share cost: $300 (cash or check)
Weekly share size: 7 items
Pick up: Wednesdays, 4:00 – 6:00 p.m., at the Living Lab
Deadline: June 21, 2017 (For July-September season, starts 7/5/17)
Participating in our CSA is a great way to support local agriculture! For $300 per season, enjoy a weekly share of fresh produce from Sleeping Frog Farms. The selection varies each week depending on what's in season - recently we've enjoyed turnips, peppers, apples and more. For an additional cost, you can also purchase raw milk and eggs from Golden Rule Dairy or artisan bread from Barrio Bread.  
Joining at the beginning of each season ensures that our farmers can get what they need to supply us with fresh, delicious produce. However, if you are late to the game you are always welcome to join. The CSA shares average about $25/week, so if you are joining mid-season we can pro-rate the cost for missed weeks. Contact Lisa Shipek for more information. 
Invest in the local food community and join our CSA today! To join, email or call Lisa Shipek at 520-396-3266 x2.
Jul-Sept: Onions, pomegranate, cantaloupe, melon, beets, leeks, jalapenos, garlic, kale
Oct-Nov: Apples, peppers, tomatoes, radishes, parsley, pears, carrots
Additional Offerings
Milk: $20 for 1/2 gallon per week for one month, $40 for a whole gallon per week for one month
Eggs: $5 for one dozen
Bread: heritage varieties available from $4-$7 per loaf
For more information about our vendors:
http://www.sleepingfrogfarms.com