Green for All, a national non-profit organization, has selected Tucson as a target community for their green job development programs. And green infrastructure, a key component of Watershed Management Group's work, is one of the primary paths to the green jobs they are promoting at a national scale. Check out these two videos, featuring Tucson as a leading example!
This video features WMG's Associate Director, Tory Syracuse, talking about creating the demand for water harvesting that will lead to green job growth.
This bilingual video features local organization and WMG partner, Tierra y Libertad.
Both videos include footage of green infrastructure demonstration sites created with the help of WMG, including: Center for Land and Freedom, Totecalli Academy, and Manzo Elementary School. Learn more about these sites (and many more) on our interactive map of public water-harvesting demonstration sites.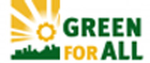 Green For All is a national organization working to build an inclusive green economy strong enough to lift people out of poverty.