Tucson Co-op Member and Co-op client Susan Moran shares her experience volunteering and working with WMG.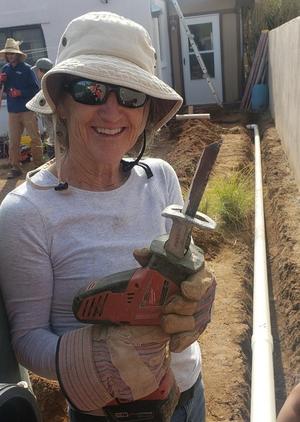 My water harvesting experience with WMG was exceptional.  I would say, "a dream come true".  Our dream was to direct the water from our roof to desert vegetation along our fence lines for a green privacy screen.  We also hoped for some eye-catching cactus gardens and desert grasslands across our flat uninteresting 1-acre lot.  WMG made it happen.
Allow me a short history.  When we bought our house, the backyard was a web of irrigation pipes and tubing in various stages of disrepair.  Over the years, we sunk a bunch of time and money into repairs, until we eventually abandoned the entire irrigation system.  Finally, we installed a few bubblers to water some mesquite trees, and we settled for a flat dirt yard with a few agaves, yuccas, and aloe vera.  It was wholly uninspired.
So, I called WMG for help.

With luck, I happened to contact WMG just before their annual Homescape Harvest Tour in the fall.  That was the first step in my journey.  I visited 10+ homes in one day. These homeowners had lush undulating landscapes supported mostly by rainwater. I was hooked.
I immediately signed up for the WMG rainwater harvesting and greywater courses; I joined the WMG co-op; and I scheduled a consultation with a WMG Water Harvesting Specialist (Lincoln Perino). I volunteered for weekly workshops organized by WMG to learn about water harvesting, desert vegetation, and rockwork.
For the first time since we moved into our home, I had an idea of what could be done with our yard.
The consultation was great.  Lincoln understood our goals: 1) vegetating our side yards for privacy, and 2) transforming a flat dirt yard into a desert wonderland.  We decided on a passive system for this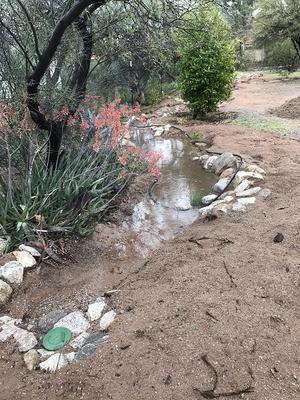 project, rather than installing a cistern.  Lincoln provided a design, cost estimate, and timeline.  In the meantime, I continued to go to workshop after workshop on Saturdays to get more ideas (and have fun).  Occasionally, I would send emails to Charlie Alcorn (WMG Program Coordinator) and Lincoln, with questions.  They were consistently responsive and flexible.  
The whole process from basic idea to final plan was both fun and educational.
Then, in February, it was my turn for a WMG workshop in my yard.  Lincoln arrived a few days earlier with an earth mover to dig strategic swales and basins with an eye for water catchment.  The day of the workshop was cloudy and cold, yet many stalwart volunteers braved the elements to provide plumbing, earthworks, and planting.  Lincoln returned a few days later to wrap up the loose ends.  The next day, it rained 0.25", and we were able to watch the roof-water run through a series of pipes to four beautiful swales along the sides of our yard.  Success!
Since then, I have spent most mornings puttering in the yard with my wheelbarrow, shovel, and rake.  With a neighbor, we installed a couple of walkways running between basins to pull the yard together.  After a month of intermittent work, the water is going where we want it, the plants are thriving, and two pretty rock gardens are in place.  Happy family here!
What was better than expected?  The WMG workshops are perhaps the best part of the process.  I was a bit worried because I'm a klutz with power tools.  The workshops are not what I had envisioned.  Though workshops certainly provide some help for the homeowner, they are primarily designed to be educational for the volunteer workers.  There are tutorials on everything from planting to plumbing to power tools.  And on top of that, the workshop volunteers are some of the best people in Tucson.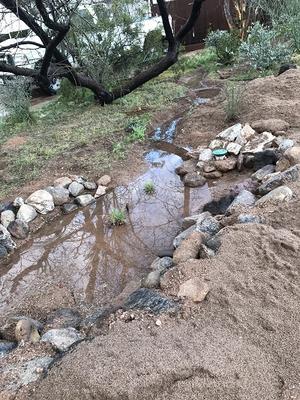 What was harder than expected?  We were very interested in having lots of big rocks to provide retaining walls and outcrops throughout the yard.  We thought that would be an easy process – that is, just have WMG deliver rocks (7 tons, exactly) and place them near/at their final destinations, right?  But rock work is much more of an art than we had expected.  Thank you, Lincoln, for the valuable tutorial on rock placement and stabilization.  We followed your advice, and the result is a total of 70 linear yards of beautiful rockwork throughout the backyard.

What would I do differently?  I wish I had done this earlier.  I despair about all the rainwater that we wasted as it ran off the roof onto the patio and puddled around our foundation.  20,000 gal/year!  And what about all those water bills we paid to run our failed irrigation systems?  Even worse, we missed out on the beauty of our new desert landscape.  We should have done this years ago.

What would I tell others?  WMG provided a framework, not a finish.  The project transformed our yard from a featureless barren expanse to an efficiently functioning watershed.  The rainwater is now directed to the areas that needed water; overflow is accounted for; and plants are in place for beauty and purpose.  It is a perfect pallet for a happy gardener like me to begin adding more plants, finessing rocks, and laying trails.  If that is what you want, then go for it.  And don't forget the Tucson Water rebate for rainwater harvesting!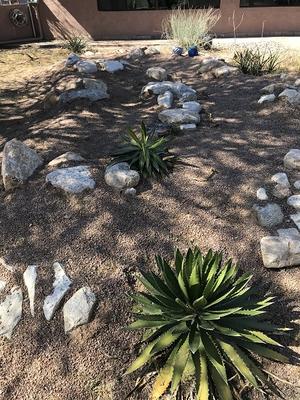 Yelp review:  WMG deserves 5 stars, and even more if I could.  We just finished a project to landscape our yard in Central Tucson.  This was a wonderful community-based, educational process that resulted in a sustainable desert landscape that is a joy to behold.  WMG provided great ideas for the original design and worked with us to keep costs low.  The whole WMG staff is knowledgeable, patient, and professional in every way.  We only wish we had done this earlier.  The continuing savings in water bills will certainly pay for the cost of installation.

6-mo Timeline:
17 Oct – WMG Rainwater Harvesting Class
19 Oct - WMG Homescape Harvest Tour
Oct-Dec – Seven WMG Co-op workshops, each Saturday 8am-1pm
Oct 22 – WMG On-site Consultation with Lincoln
Nov 20 – WMG Project Design and Next Steps Meeting
Nov 21 – WMG Greywater Class
Dec 17 – WMG Project Cost Estimate
Feb 18 – Rain gutters installed
Feb 20-27 – WMG yard preparation, excavation; WMG Workshop, WMG wrap-up
March – I worked on the yard about 2-4hours/day, about 5 days/week, now landscape finished