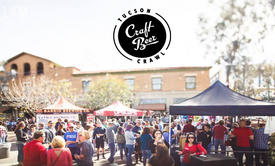 At the Tucson Craft Beer Crawl you can sample beer from local and regional breweries as you explore downtown Tucson on-foot. Purchase your ticket and you will get a map, wristband and tasting glass to use while you check out some of the awesome breweries and bars downtown. 
We are seeking volunteers for the Tucson Craft Beer Crawl. Contact Charlie Alcorn at calcorn@watershedmg.org to learn about how to sign up. 

Time you spend volunteering will be banked as Tucson Co-op Workshop hours. A portion of the proceeds will fund WMG's River Run Network, a community of people working together to restore Tucson's heritage of flowing creeks and rivers.