Progress on our Rivers: The Santa Cruz Heritage Virtual Creek Walk
Tuesday, August 18th at 5:30pm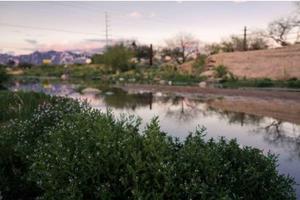 Go on a virtual creek walk with Trevor Hare, WMG Restoration Director, and Dr. Michael Bogan, Assistant Professor, School of Natural Resources and the Environment at the University of Arizona, as we discover the secrets of water in the desert along the new flows in the Santa Cruz River. Tucson Water started recharging effluent (treated wastewater) in the Santa Cruz River from 29th St to Cushing St in June of 2019 and amazing things started to happen—life blossomed! Learn about the ecology of our desert waters, as well as Dr. Bogan's research on the amazing dragonfly diversity that has returned with the new flows.
This event is organized through the River Run Network. If you are not yet a member, we will add you to the Network when you register for this event. RRN membership is free and gives you access to exclusive creek walks, river restoration workshops, river clean-ups, and advocacy opportunities.