Giving Tuesday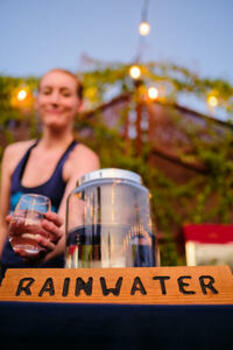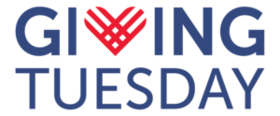 Rainwater on Tap Happy Hour
Tuesday, November 29th
5:30p.m. – 8:30p.m.
Living Lab, 1137 N Dodge Blvd
Online registration closes at 4pm 11/29. Tickets available at the door.
Enjoy rainwater refreshments at our 7th annual Rainwater on Tap Happy Hour on Giving Tuesday! You'll be in great company with live music and dancing from The Out of Kilters, innovative rainwater cocktails from Whiskey del Bac, hot rainwater native teas, MotoSonora brews on tap, and delicious wood-fired pizza from Fiamme's Pizza. Connect with like-minded friends and learn more about hydro-local living at our rainwater-fed Living Lab!
Giving Tuesday is a joyful alternative to Black Friday and Cyber Monday — a day that we choose generosity to effect a lasting change in our world. With your help, we can shift our communities from being water consumers to water stewards, and to give back to the lands and waters that sustain us. All donations made now through Giving Tuesday will help us reach our $50,000 Giving Tuesday goal!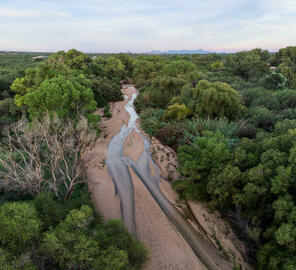 Your prepaid cover of $20 includes two drink tickets ($25 at the door). Please consider making a donation in addition to your ticket purchase to help us reach our Giving Tuesday campaign goal. You can take home your own Hydrate Local glass growler filled with rainwater by joining WMG as a monthly donor starting at $10/month or making a donation of $100 or more.
---
EN ESPAÑOL: Ven a brindar con agua de lluvia en nuestro 7mo Annual Rainwater on Tap Happy Hour en Giving Tuesday! Disfruta de buena compañía con música en vivo y baile de The Out of Kilters, innovadores cócteles de agua de lluvia de parte de Whiskey Del Bac, tes de agua de lluvia, cerveza artesanal de MotoSonora y deliciosa pizza al horno de leña de Fiamme. Conecta con otros individuos y aprende más sobre cómo vivir de manera hidro-local en nuestro laboratorio vivo, cien por ciento surtido de agua de lluvia!
Giving Tuesday es un antídoto alegre a nuestra rutina consumista- un día en que elegimos la generosidad para dejar un cambio duradero en nuestro mundo. Con tu ayuda, podemos cambiar nuestras comunidades de ser consumidores de agua a ser guardianes del agua, para regresar el favor a la tierra y agua que nos dan vida. Todas las donaciones hechas hoy y hasta Giving Tuesday servirán para ayudarnos a alcanzar nuestra meta de $50,000 de Giving Tuesday! Tu boleto prepagado de $20 incluye 2 bebidas ($25 en la puerta). Por favor considera hacer una donación adicional a tu boleto para ayudarnos a cumplir con nuestra meta de Giving Tuesday. Llevate a casa una Hidratate Local (botella de vidrio) llena de agua de lluvia al unirte a WMG como donador de $10 al mes o al donar $100 o más.
Thank you to our business sponsors for making this exciting event possible:
Gracias a nuestros patrocinadores por ayudar a que este evento sea posible: