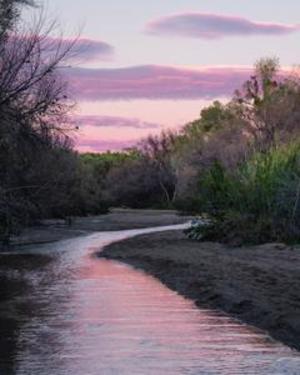 We could all use a little more happiness in our lives these days. WMG's Cultural Ecologist, Joaquin Murrieta, has been talking about "bringing back the happiness of our rivers," through celebrating our connection to rivers while we restore flow and habitat. When we Steward In Place, we are bringing happiness to ourselves and nature. Sara Birtalan, Flow365 monitor and new WMG docent, is a great example of the "flow" of happiness between people and place!
At our last virtual docent training session, Sara and another docent, Graciela Robinson, described "love of place" as one of the most important values of their cohort. I'm reaching out to share Sara's story and ways you can amplify WMG's work as a donor, volunteer, and steward in your backyard.
If you love the Sonoran Desert and want to make our rivers happy again, please support WMG's summer fundraising campaign and help us amplify our Steward In Place effort.
Make a gift today to WMG and your donation will be doubled thanks to a $40,000 matching fund from several loyal donors.
While some work had to be put on hold this year due to COVID-19, we continued with our Flow365 program, encouraging people to practice social distancing while monitoring our creeks and rivers in Tucson. Sara and her family, including her daughter Rosie, have been monitoring a stretch of rare groundwater-supported flow along the Tanque Verde Creek. She shares, "With school shut down, social interactions canceled, and our whole family working at home every day, we found ourselves at the creek more often, which was a delightful source of natural activity into early summer."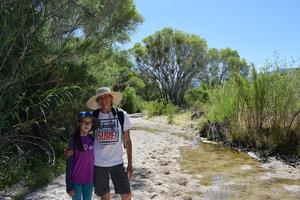 What they found was flow abundance! The ½ mile stretch of creek flowed March through June, even when all other sections of the middle and lower Tanque Verde were dry. The last day of flow was recorded on July 9th. Sara adds, "As citizen scientists, we contribute valuable surface water flow information to fill in missing parts of WMG's data set."
What each of us does in our yard and neighborhood does impact our local creek, river, lake, or ocean. Like Sara, and other WMG volunteers, we can use that power for good to enhance our watersheds together and develop an intimate partnership with nature. This work is more important than ever to combat climate change and build resilient watersheds.
Please support WMG with a donation today to help us reach our $85,000 fundraising goal and ensure we can continue our Steward In Place events and adapt our conservation programs for a growing impact.
After you donate, sign up for one of our upcoming events:
Visit our Steward in Place webpage for a list of upcoming classes and virtual events
Sign up for our virtual Monsoon Film Festival on September 24th to enjoy the screening of our favorite short videos submitted by our audience and the award-winning documentary, The Beaver Believers.