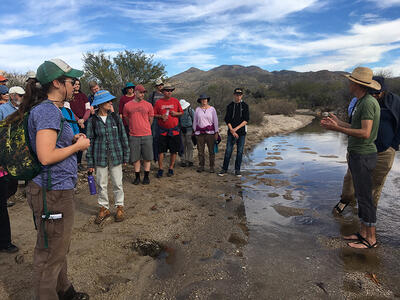 Rillito River Bats: River Run Network Creek Walk & Clean Up
Thursday, July 29, 2021 - 5:30pm to 7:30pm
Register Here
Watershed Management Group is partnering with Tucson Village Farm to host our family-friendly Bat Walk! The Rillito River is home to many different creatures that use Tucson's watersheds and bridges as habitat. One of these cool critters is the Mexican Free-Tailed Bat (Tadarida brasiliensis). Just before sunset, these nocturnal mammals wake up from their siesta and take flight, flitting around our city and munching mosquitos as well as pollinating many of our native plants! In addition to learning about our charismatic chiropterans, we will be picking up trash on this exciting and informative Creek Walk along the Rillito River. The event will be led by Joaquin Murrieta, WMG's Cultural Ecologist and Debbie C. Buecher, M.S. with 35 years of experience working with bats. They will be accompanied by David Rollings, Americorps Intern at Tucson Village Farm, and Cindy Hu, WMG's Community & Youth Engagement Manager.

WMG will provide the bags, grabbers, and gloves for trash pick up. We encourage people to stay physically distanced at this outdoor event, and if you are unvaccinated, please wear a mask. 


This event is organized through WMG's River Run Network. If you are not yet a member, we will add you to the Network when you register for this event. RRN membership is free and includes a biweekly email with invitations to creek walks, family education events, river clean-ups, restoration workshops, and advocacy events to help restore our heritage of flowing rivers.