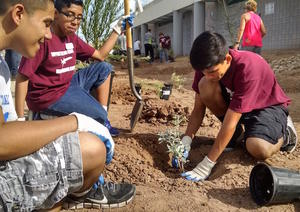 Phoenix's hottest neighborhood just got a lot greener, thanks to a WMG water-harvesting project at the Wilson School District in central Phoenix.
In the area around the school surface temperatures in the summer can reach up to 170 degrees—15 degrees hotter than in communities at the city edges bordering the desert. The school is combating their urban heat island effect by working with WMG to implement creative green infrastructure solutions to grow shade to cool the school grounds and surrounding streets.
WMG united 50 volunteers from the school and surrounding community for a schoolyard green-up project at Wilson School to transform the barren landscape by planting 22 desert trees and more than 120 native and adapted plants. These plants will be supported by a water-harvesting arroyo designed that mimics a natural desert wash. The arroyo and surrounding basins have the potential to capture up to 53,000 gallons of rainwater per year to nourish the vegetation.
The schoolyard green up project was implemented by WMG in partnership with Support Sky Harbor Coalition and the City of Phoenix as part of a larger Neighborhood Clean Up held twice a year. The green up was designed to be a legacy project to develop long-term solutions and leave a lasting effect in the community.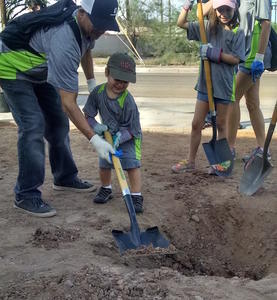 Education and student involvement were a key component of the project. Wilson School students visited ASU's Boyce Thompson Arboretum to learn about native trees and vegetation, and middle school students attended two WMG classroom sessions to learn about the water cycle and how to choose plants to fit their water budget.
Wilson School science teacher Nichole Spencer said, "They learned so much about the procedures for proper planting, and they mentioned harvesting rainwater in other projects because of their new-found knowledge from the project." City of Phoenix Neighborhood Specialist Lysistrata Hall said that by the end of the project, students were talking about future careers as landscape architects and engineers.
This project was funded by a grant from the National Fish and Wildlife Foundation. These grant funds will also support a project in another area of the school campus in Spring 2016.
For more in-depth courses on rainwater and greywater systems, care of native and edible plants, and building healthy soils, check outWMG's Hydrate Tempe project series held at 24 Carrots Café & Juicery starting in January.