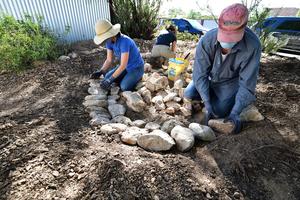 We are grateful to start the new year on such strong footing after thanks to the success of our year-end fundraising campaign.
Thanks to close to 300 donors, we met and surpassed our goal with a current count of $75,832 raised!
Your support helps us ramp up our Build Your Own Basin and other Steward In Place initiatives. Water harvesting basins are simple to build, and they're practical solutions to make changes at home that have a positive impact on our local creek, greater watershed, and global climate. If you're inspired to BYOB in the new year, check out our bilingual BYOB how-to zine and other resources at Watershedmg.org/BYOB.
If you missed the campaign but would still like to donate, you can donate online or send a check in the mail.