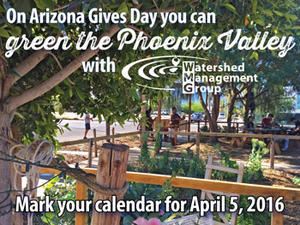 WMG is working to make Phoenix a model for green infrastructure, water conservation, and native landscaping across the Western U.S. Our vision is a Phoenix Valley that is abuzz with pollinators, cooled with shade trees, and invigorated with plentiful water supplies. 
On Arizona Gives Day, April 5, 2016, you can help support our vision for a greener Phoenix Valley. AZ Gives is Arizona's largest day of giving and WMG is aiming high to top the leaderboard and take home an extra $15,000 prize. Our loyal donors have propelled us to top spots on the leaderboard the last three years, so help us make sure we don't leave extra prize money on the table this year! 
These lofty goals for a greener Phoenix Valley aren't dreams—they're real projects that are happening on the ground in your community. WMG is leading the way by working with key partners in your city governments, local businesses, and schools to create visible examples of green infrastructure work across the city. You can see examples of this work through:
Public demonstration sites to showcase water harvesting features, native plants, and green infrastructure 
Professional trainings to provide knowledge and skills to key stakeholders, including municipal employees, city planners, and landscape designers
Co-op workshops at homes, schools, and public sites across the Valley to teach people skills that they can apply in their own neighborhoods
Our new Hydrate educational program, a 6-week series that helps homeowners plan projects to create a sustainable backyard oasis
Help ensure a successful Arizona Gives Day for WMG by pre-scheduling your gift now so you can make sure you're all set for this important day. When you click the donate button, the charge date is set for April 5th, so your donation will be processed on AZ Gives Day. Then, gather up your team and join us at Mother Bunch Brewing to celebrate with a sustainability-themed trivia night co-hosted with our friends at the Valley Permaculture Alliance. We'll have real-time status updates, six rounds of trivia led by our witty DJs, inside tips and info for you, plus homemade eats and craft beer on tap from Mother Bunch. Join our Facebook event and invite your teammates to let us know you're coming.