Watershed Management Group is partnering with Metro Water to offer a free class on water harvesting to Metro Water customers on Tuesday, September 15, 2015, from 6:00 – 8:30 p.m. at the Metro Water District Office in Oro Valley.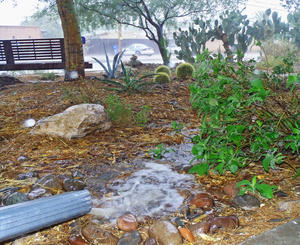 Learn from WMG's expert system designers and installers how you can put your rainwater and graywater resources to use. You'll learn how to capture every drop of rainwater for use in your landscape or garden and discover the benefits of reusing water from your washing machine or shower to grow food and shade. 
The class will include a tour of water-harvesting features at a nearby home, an introduction to rainwater and greywater harvesting, and design help to get you started on a plan for your home! Register online today to secure your seat in the class.
This class does NOT satisfy the Tucson Water Rainwater Harvesting Rebate requirements. You can find information on those classes here.