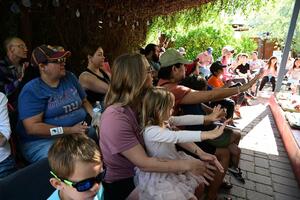 Join us outside to learn how to plant your own rain garden at home on Saturday, September 16 from 8:00am - 11:00am. Rain gardens help capture rainwater, conserve city water used for irrigation, cool down sidewalks, reduce flooding, and provide habitat for bees, birds, and butterflies. After you attend a hands-on workshop, you can take home a complimentary rain garden kit which includes a native shade tree, native grass, shrub, wildflower seeds, and Tank's wood chip mulch. Plus enjoy bilingual story time, meet the hens, learn to code, and make a worry stone or necklace.
Schedule:
8:00am - Nature activities
9:00am - Rain Garden Workshop
10:00am - Song and Story Time
11:00am - Program Ends  
Family Saturdays happen every third Saturday of the month. WMG Kids stay up to date on childrens programming through the Tucson Action Bulletin. 
~español~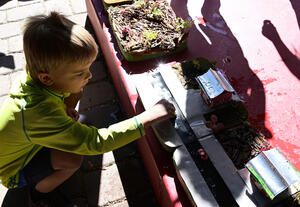 Acompáñanos afuera para aprender a plantar tu propio jardín de lluvia en casa el sábado 16 de septiembre de 8:00am a 11:00am. Los jardines de lluvia ayudan a recolectar agua de lluvia, conservar el agua de la cuidad utilizada para regar las plantas, crean sombra para las banquetas, reducir las iundaciones y crean un habitat para abejas, pajaros y mariposas. Después de asistir un taller práctico, puede llevarse a casa un kit de jardín de lluvia gratuito de incluye un árbol de sombra nativo, un pasto nativo, un arbusto, semillas de flores silvestres y mantillo de Tank's. Además, disfruta la hora del cuento bilingüe, conoce a las gallinas, aprende a codificar, y haz una piedra de preocupación o un collar.
Horario:
8:00am - Actividades en la naturaleza
9:00am - Taller de jardines de lluvia
10:00am - Hora de musica y cuentos
11:00am - Fin del programa 
Sábados familiares se ofrecen cada tercer sábado del mes. Mantente informad@ sobre las clases para niñ@s a través del Tucson Action Bulletin.
-----
Thank You To Our Event Sponsors: 
This project is funded in part thanks to Arizona State Forestry and Fire Management, Tank's Green Stuff, and National Fish and Wildlife Foundation. 
Make a Day of it! This event coincides with the Agua es Vida film festival at the Loft just down the street from the Living Lab. After Family Saturday, we will be offering a free special tour at the Living Lab and then folks can head over to the Loft for the film festival. More details, registration, and ticket info for Agua es Vida, visit sustainabletucson.org/agua-es-vida