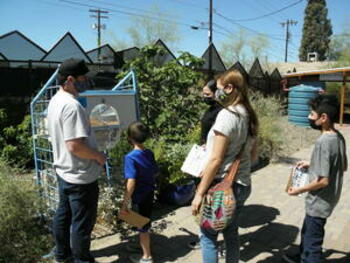 Register today to save your spot!
July 17 from 8 a.m. - 11 a.m.
¡Registrase hoy para reservar su espacio!
El sabado 17 de julio a las 8 a.m. - 11 a.m.
Join us in the shade for our bilingual story time on Saturday July 17th @ 9:00am! We will read The Very Hungry Caterpillar in English and Spanish, sing songs, and make a craft to take home. Family Saturdays are held at the Living Lab and Learning Center located at 1137 N. Dodge Blvd. 
This is a drop-in program that is fun for the entire family. You can swing by the Living Lab anytime from 8a.m. -11a.m. to explore the self-guided activities. Family Saturdays are offered every third Saturday of the month and are designed for family groups with children. Space is limited to 15 family groups, so save your spot today. We encourage masks for adults not vaccinated.
Save the Date!
July 17th           
August 21st     
September 18th
***Español***
¡Únase a nosotros en la sombra para nuestra hora de cuentos bilingües el sábado 17 de julio a las 9:00 am! Leeremos La Oruga Muy Hambrienta en inglés y español, cantaremos canciones y haremos un proyecto de arte para llevar a casa. Watershed Management Group está organizando sábados familiares en el Living Lab and Learning Center localizado en 1137 N. Dodge Blvd.

Sábados familiares se ofrecen cada tercer sábado del mes y están diseñados para niños y toda la familia. El espacio está limitado a 15 grupos familiares, así que reserve su lugar hoy. Ya que se registran, pueden pasar por el Living Lab en cualquier momento, sin cita, entre las 8 a.m. -11 a.m. para explorar nuestras actividades autoguiadas. Pedimos que todos los adultos  sin vacuna usen máscaras. Para más información, favor de contactar a Cindy: 520-396-3266 x17. 
Anota la fecha!
17 de julio 
21 de agosto
18 de septiembre