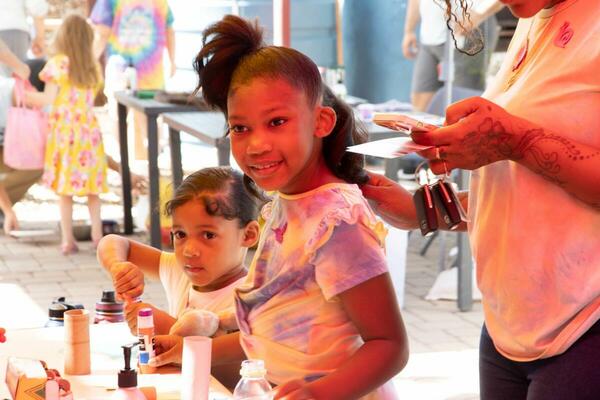 (Español abajo) Bring the kids to Family Saturday at the Living Lab to learn about greywater and water conservation. This event is free for the whole family on Saturday, July 16th from 8:00am - 11:00am. Enjoy bilingual story time, a scavenger hunt, and build your own tippy tap to take home. What's a tippy tap you say? A tippy tap is a hand washing station that conserves water and provides greywater for plants! We will provide all the materials needed, but we would appreciate you bringing two 5 - 6 foot wooden branches with a y at the end and or sturdy 1 gallon jugs you may have at home. 
Schedule:
8:00am - Kids Activities (ongoing)
9:30am - Song & Story Time
11:00am - Program Ends 
Family Saturdays happen every third Saturday of the month at the Living Lab and Learning Center located at 1137 N. Dodge Blvd from 8a.m. - 11a.m. Registration encouraged, walk ins welcome. 
Trae a l@s niñ@s a Sábados Familiares en el Laboratorio Vivo para aprender sobre la agua gris y la conservación del agua. Este evento es gratuito para toda la familia el sábado 16 de julio de 8:00 am a 11:00 am. Disfrute de la hora del cuento bilingüe, una búsqueda del tesoro y construye tu tippy tap para llevar a casa. ¿Qué es un tippy tap? ¡Un tippy tap es una estación de lavamanos que conserva la agua y da agua gris para las plantas! Le proporcionaremos todos los materiales necesarios, pero le agradeceríamos que traiga dos palos de 5 a 6 pies con una "y" en la punta o jarras resistentes de 1 galón que tenga en casa. 

Horario:
8:00am - Actividades para niñ@s 
9:30am - Hora de musica y cuentos
11:00am - Fin del programa 
Sábados familiares se ofrecen cada tercer sábado del mes en el Living Lab localizado en el 1137 N. Dodge Blvd de las 8a.m. a las 11a.m. Se anima a inscribirse, pero todos son bienvenidos. Para más información, favor de contactar a Cindy: 520-396-3266 x17.