Do you have extra native plants, tools, or other items that could help someone else in our community build their own rain garden? We are now seeking donations for our fall BYOB community swap!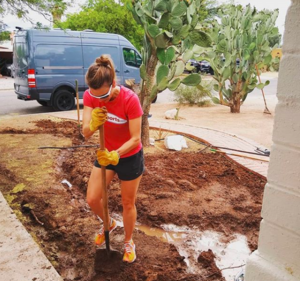 Help create more native rain gardens in our community by dropping off your donations at WMG's Living Lab & Learning Center!
Just drop off any of these plants and/or materials at our Living Lab on Dodge Street:
(Donation Hours: Mon-Fri, 9:30a.m. - 5:00p.m., October 2021)
Native Trees & Shrubs: Velvet mesquite, desert ironwood, blue palo verde, canyon hackberry  (1 and 5 gallon pots)
Native Seeds: Wildflowers, bunch grasses
Landscaping Tools: Rakes, shovels, pick axes, hand trowels, tampers, digging bars
We are seeking native plant donations, so if you are not as familiar with plants, please check if your plant cuttings or pups are Sonoran Desert natives before donating them. We will not be able to accept items that are not on the list above.
Everyone who attends one of our BYOB workshops will be eligible to take home a BYOB kit in October. All upcoming BYOB workshops can be found at Watershedmg.org/BYOB.
If you have questions about donating materials, you can reach out to WMG's Program Coordinator, Jonah Ivy, at jivy@watershedmg.org.