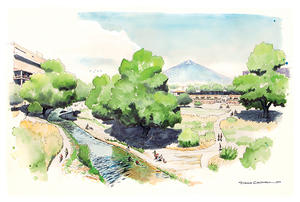 This summer, we're crafting our 50-year plan to restore Tucson's heritage of flowing rivers, including goals, strategies, and metrics for 5, 10, 25, and 50 year timelines. You're a big part of our plan, and your support can ensure we reach our long-term goal!  
To move our visionary plan forward, please invest in WMG's work with a donation today. Your gift will be doubled thanks to our summer challenge match and will help us reach our $75,000 goal.  
This artwork, by local artist and naturalist Dennis Caldwell, illustrates our vision of what a restored Santa Cruz River will look like near downtown Tucson. Through our 50-year plan, the Santa Cruz River once again flows year-round at the base of A Mountain – supported by a healthy groundwater aquifer in addition to effluent. The flowing river is a cultural and ecological gem of our desert community that is essential to our city's economy and livability. Tucsonans and visitors flock to the river to picnic, recreate, and find peace in the beauty and abundance of our beloved desert river that also supports important native fish, amphibians, birds, and mammals.
Please join us by donating, signing up for the River Run Network, or coming to our events!