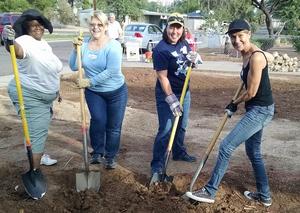 BYOB & Plant a Tree: Virtual Workshop
Wednesday, March 31st, 5:30-7p.m.
Register
Learn the fundamental steps to Build Your Own Basin (BYOB) and plant a rain garden that supports native shade trees from WMG Executive Director, Lisa Shipek!

Everyone who participates in this workshop qualifies for a complimentary BYOB kit to green your streets, available for pickup at WMG's Living Lab and Learning Center in April. Your BYOB Kit includes a native shade tree, wildflower seeds, native shrubs or grasses (if available), organic mulch, and WMG's first-ever zine with step-by-step instructions on BYOB to get you started.