Sonoran Institute & Watershed Management Group Join Forces to Honor the Santa Cruz River for the All Souls Procession on Sunday, Nov. 5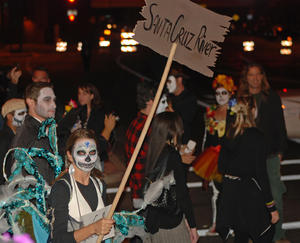 This year, the All Souls Procession announced a new route on the westside of downtown Tucson along the "Ghost River," with the procession that honors death establishing a new route to honor the dry wash that was once an above-ground flowing river – the Santa Cruz River.
In light of that, local nonprofits Sonoran Institute and Watershed Management Group – environmental advocacy organizations whose work includes restoring the Santa Cruz River – are excited to announce their partnership for the All Souls Procession in honor of the Santa Cruz River.
The organizations are collaborating on craftshops prior to the procession and walking as a group in the procession to pay homage to our heritage of flowing rivers, and to bring hope of restoring Tucson's rivers through Sonoran Institute's Santa Cruz River Initiative and Watershed Management Group's River Run Network.
During the craftshops, where participants can create props and costumes, both organizations will share with participants information about the Santa Cruz River's history and the work being done to bring the Santa Cruz River back to its former glory.
The free craftshops take place at Watershed Management Group, 1137 N. Dodge Blvd., from 5:30-7:30 p.m. on Tuesday, Oct. 24 and Wednesday, Nov. 1.