A young woman learns to operate heavy machinery for precision excavating. A group of UA's College of Architecture, Planning and Landscape Architecture students create an award-winning rainwater harvesting design. A high school on Tucson's southwest side gets a cooling landscape that no longer floods.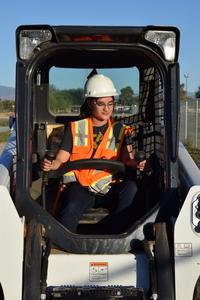 Students at the Star Academic High School learn about rainwater capture, and its importance for the community.
In this underserved community, WMG and nine other organizations helped Star Academic get a major landscaping overhaul. The high school's grounds lacked shade, baked in the summer and had damaging floods during heavy rains. Students and teachers were part of a dynamic process, from concept to calculations, to design and implementation of rain gardens. WMG partnered up with Arizona Project Wet to offer a practical and fun curriculum as part of the STEM (science, technology, engineering, math) educational process.
The Star Academic community, with strong Latinx roots, brought together 80 volunteers to create over 15,000 square feet of urban wildlife habitat in just seven hours! WMG's Cultural Ecologist, Joaquin Murrieta, with assistance from partners Project Wet and Tierra y Libertad, led this massive community workshop. Together they guided volunteers to plant over 100 native plants and trees and shape rain gardens with the capacity to harvest 90,000 gallons of rainwater.
In addition, this project was made possible thanks to the diverse partners including: Sunnyside Unified School District; the Udall Center; UA's College of Architecture, Planning and Landscape Architecture (CAPLA); UA's School of Natural Resources & the Environment; Pima Joint Technical Education District (JTED); and the Sonoran Institute. Special thanks to our funders: UA's Agnese Nelms Haury Program and UA's Green Fund.
As a result of this work, Joaquin received a Governing Board Recognition from Sunnyside Unified School District. Steve Holmes, superintendent of SUSD, said to Joaquin, "Let's do more!"
*Green Infrastructure for Social Justice: Retrofitting a High School in Southwest Tucson is the name of the landscape design created by UA's CAPLA students for Star Academic High School. The design received 2018 Honor Award of the AZ Chapter of American Society of Landscape Architects.
Infraestructura Verde por la Justicia Social: Trabajando con una Preparatoria en el suroeste de Tucson
Una joven aprende a operar maquinaria pesada para excavaciones con precisión. Un grupo de estudiantes de la UofA de la Facultad de Planeación y Arquitectura del Paisaje son galardonados por crear un diseño de recolección de agua de lluvia. Una preparatoria en el suroeste de Tucson recibe un paisaje refrescante y sin inundaciones. Estudiantes de Star Academic High School aprenden sobre la captura de agua de lluvia y su importancia para la comunidad.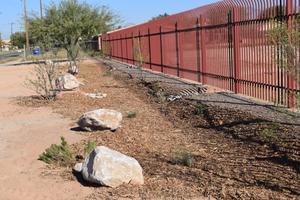 En esta comunidad desatendida, WMG y otras nueve organizaciones ayudaron a Star Academic a obtener una importante revisión de su patio escolar. Los patios de la escuela carecían de sombra, con calores tremendos en verano y tenían inundaciones dañinas durante las fuertes lluvias. Estudiantes y profesores formaron parte de un proceso dinámico, desde el concepto, los cálculos, el diseño y la implementación del jardín de lluvia. WMG en colaboración con Arizona Project Wet desarrollaron un plan de estudios práctico y divertido como parte del proceso educativo STEM (ciencia, tecnología, ingeniería, matemáticas).
¡En solo siete horas, la comunidad Star Academic, con fuertes raíces latinas, reunió a 80 voluntarios para crear más de 15,000 pies cuadrados de hábitat de vida silvestre urbana! El Ecologista Cultural de WMG, Joaquín Murrieta, con la asistencia de los socios Project Wet y Tierra y Libertad, dirigió este taller masivo con la comunidad. Juntos, guiaron a los voluntarios para plantar más de 100 plantas y árboles nativos y dar forma a jardines de lluvia con capacidad para recolectar 90,000 galones de agua de lluvia.
Además, este proyecto fue posible gracias a la diversidad de socios incluyendo: el Distrito Escolar Unificado de Sunnyside; el Centro de Udall; Colegio de Arquitectura, Planificación y Arquitectura del Paisaje de la UofA (CAPLA); La Escuela de Recursos Naturales y Medio Ambiente de la UofA; Distrito de Educación Técnica Conjunta de Pima (JTED); y el Sonoran Institute. Un agradecimiento especial a nuestros patrocinadores: el Programa Agnese Nelms Haury de UofA y el Fondo Verde de UA. Como resultado de este trabajo, Joaquín recibió un Reconocimiento de la Junta Directiva del Distrito Escolar Unificado de Sunnyside (SUSD). Steve Holmes, superintendente del SUSD, le dijo a Joaquín: "¡Vamos por más!"
*Infraestructura Verde por la Justicia Social: Trabajando con una Preparatoria en el suroeste de Tucson es el nombre del diseño paisajístico creado por los estudiantes de CAPLA de la UofA para Star Academic High School. El diseño recibió el Premio de Honor 2018 del Capítulo AZ de la Sociedad Americana de Arquitectos Paisajistas.