You can be a powerful advocate for preserving and restoring our mountain streams, desert rivers, and wildlife habitat.

Speak for our rivers
The River Run Network is a group of people working together to restore Tucson's heritage of flowing creeks and rivers. Join today and explore this online platform to learn more about restoration targets, priority actions, and progress towards our goal. 
We know every creek and river has more than one story, so we are asking you to share yours! Your photos and memories of flowing desert rivers, creeks, and springs will help us create a beautiful artistic living waters display that will help connect people to our community's heritage of flowing rivers in the desert.
Share your desert river memories
Conserve, Harvest, Restore—at home and beyond
You can take action at home and in your community to help restore our desert rivers, while creating a lush and inviting human environment too.
Indoor water conservation will make a difference. Water-efficient appliances help, but conscientious behavior can have an even bigger impact. Using your water resources wisely will help reduce the need for groundwater pumping.

Turn off the faucet when you brush


Run the dishwasher only when it's full


Take shorter showers (or shower together!)


Then direct all your appropriate indoor greywater to your landscape!
About 40% of residential water use is for landscaping. Harvesting the rain that falls on your yard and roof can satisfy all your landscape water needs—growing a lush and vibrant landscape while reducing the amount of water pumped out of the ground.
Slow it. Spread it. Sink it. Restoring washes and streambeds, planting native vegetation, and sculpting the land nearby to capture the rain as it falls increases the amount of water that soaks in, replenishing pockets of shallow groundwater and improving the health of streams and habitat.
Our Co-op uses a barn-raising model, where you learn practical skills by helping implement projects at members' homes. When you are ready to transform your home landscape, you benefit from discounted costs on WMG services, and volunteer labor from your fellow Co-op members helps you get the job done. When you join, you'll receive a weekly email with opportunities to get involved.
Make your conservation count with C2E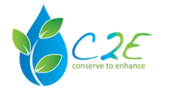 Are you passionate about conserving water? Do you want to take your conservation to the next level and make your water savings really count? Conserve to Enhance is a simple program that helps you track your water use over time, discover where you have the most potential to save, and put your water savings to work supporting enhancement projects in your community! Join the growing movement to enhance Tucson's rivers and washes.
Add your voice to the Collaborative
The Santa Cruz Watershed Collaborative is a collective of local organizations and individuals who want to achieve our mission of restoring Tucson's heritage of flowing water. Comprised of member organizations from the nonprofit sector, local government, private businesses, utility companies, and even just some concerned citizens with a stake in watershed health, the mission is "to collaboratively restore the hydrological and ecological function of the watershed" through smart management and policy decisions.