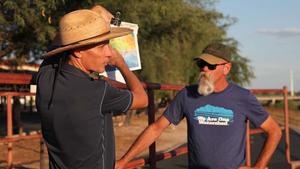 Flowing water is a rare sight in Tucson's rivers and washes, but local activists hope this uncommon scene can become more frequent in the future, not just during summer monsoons or winter rains.
As part of its River Run Network, members of Watershed Management Group are conducting monthly creek walks to educate members of the community about these natural assets in the city.
The washes are home to many trees and plants that also provide shade and habitat for different species such as birds, coyotes and javelinas.
The goal of restoring these washes — also called arroyos — may seem far-fetched, but WMG believes it can be done through a cooperative effort between agencies, neighborhoods, scientists and others who take measures to save water and increase groundwater levels.
The next River Run Network Creek Walk is Friday, Sept. 28 at Christmas Wash near the Rillito River and Tucson Boulevard.
It begins at 5:30 pm and is free and open to the public but WMG is asking that people register online.
Link to full media: