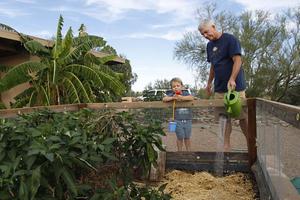 The chile peppers, lettuce and kale growing in a wire mesh pen in Scott Mencke's backyard garden show rainwater harvesting at its best.
All were nourished with rainwater stored in a 3,000-gallon, 8-foot-tall, 8-foot diameter steel cistern that restaurateur Mencke bought partly with a $2,000 rebate from the city of Tucson.
About 600 homeowners in the past two years have received such rebates, which were approved to promote water conservation — and many more may get them if the Tucson City Council decides to expand the program at its Wednesday meeting. (...)
He and the nonprofit Watershed Management Group, which installs harvesting systems, want to tailor the size of some rebates to the type of trees planted and the amount of shade they grow, he says.
Link to full media: