It's a given that the first Tuesday in April has become known for giving in Arizona.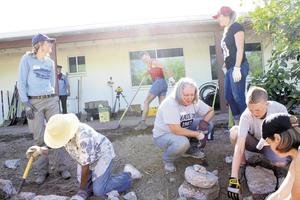 Arizona Gives Day became a thing six years ago; last year the 24-hour period of online giving raised more than $3.2 million for nonprofits statewide. This year the event is Tuesday, April 2. Donations can be made online all day to benefit more than 700 nonprofits.
"Last year was the largest annual amount to date, which brought our total raised since 2013 to $13.4 million," said Jennifer Purcell, director of community engagement for the Alliance of Arizona Nonprofits. "We have been steadily increasing each year and we hope to continue that trend, along with our mission to bring awareness to the public about what the nonprofit sector does and help to build philanthropy in the state." The alliance spearheads Arizona Gives Day and provides resources and support for Arizona nonprofits.
...
Several local nonprofits are planning special events to boost funding in conjunction with Arizona Gives Day.
The Watershed Management Group — watershedmg.org — is planning Rebels for Rain, a celebration featuring tacos from Los Tacos, libations and live music by Michael P. Nordberg from 5:30 to 9:30 p.m. at Tucson Hop Shop, 3230 N. Dodge Blvd.
Link to full media:
Today is Arizona Gives Day — 24-hour online donation event for nonprofits