Jean Fedigan has been handing out food and sanitary supplies to the homeless during the coronavirus emergency, but like many other shelter workers, she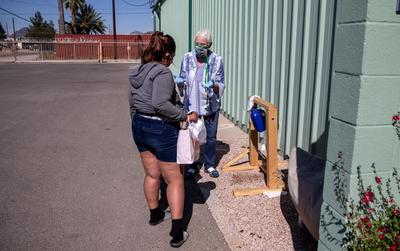 can't allow anyone in the doors during the day at the Sister Jose Women's Center.
That, coupled with the fact that public restrooms in Tucson parks have shuttered their doors to help contain the spread of the coronavirus, has left the city's homeless population with limited places to wash their hands.
"It's terrible," said Fedigan, the center's executive director. "I do what I can at the door but I can't let them in. The impact for them is huge."
Local city officials and outreach groups have come up with a low-tech and simple solution: Tippy taps. They're wooden, self-standing structures. Users push a lever with their foot and water comes out of a plastic container, allowing them to wash their hands with a bar of soap attached to the structure with string.
Watershed Management Group is installing 20 of these devices around Tucson outside places where homeless people gather to eat, like shelters, soup kitchens and parks, including Sister Jose and Casa Maria.
The Kaimas Foundation, a charitable group that does work locally and internationally, donated $3,500 to pay for them.
"Our goal is to find small solutions to big problems, and look for things that we can do that fill a gap," said Ann Charles, the foundation's executive director and chief of staff for City Councilman Steve Kozachik. "This was the perfect example of that."
The idea for the tippy taps stemmed from brainstorming sessions between Charles, Kozachik, and several of the shelter directors after they figured out there were large groups of homeless people going to certain locations to eat with no sanitation available.
"We want to give people the opportunity to follow the same sanitation guidelines that you and I can and that the CDC is recommending before they get their food," Kozachik said.
The Kaimas Foundation had worked with Watershed Management Group internationally in India and Africa before, installing the tippy taps and educating people on how to build them.
Lisa Shipek, Watershed's executive director, said she liked it as a solution for Tucson.
Shipek said the design is great because "anyone can find some sticks and a plastic jug and some string," plus, "it's just kind of fun to use a tippy tap."
"It's still really low-tech and can be easily replicated at scale," Shipek said, adding that it costs between $10 and $15 for construction materials to make one.
"Just knowing that we can help fill that need in a really short time is really great, and I think that because this is a low-tech solution that has been used across the globe, it will be really helpful," she said.
One of the first tippy taps in Tucson was installed outside the Sister Jose shelter. Fedigan said it's been a hit, with one woman already asking if she can bring it back to her encampment.
"I had to laugh. I said, 'I don't think I'm going to be done with it for a while. I'm kind of liking it,' and the lady laughed too," Fedigan said. "Most homeless are very appreciative of anything we do."
She said she's appreciative of the idea.
"I think we all try as hard as we can to ensure safety, but can you imagine being on the street at this time?
"The obstacles they face daily is hard, but then you have the scare of the virus," she said.
"This is about the community coming together, trying to figure out how to help one another. The fact that they're able to give us tippy taps for use to whoever wants to use it, I think is an extraordinary gesture," she said.
Link to full media:
'Tippy tap' hand washing stations set up for Tucson's homeless