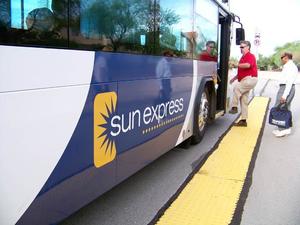 Losing a job can leave you feeling hopeless and lost. Around 11 years ago, Debbie, an avid Sun Tran passenger, felt this way when she not only lost her job but her transportation, too. It took her three years and hundreds of applications to get back on her feet. During her time of despair, Sun Tran made it easier for her to cope and continue raising her four children.
For Debbie, one thing has always been certain: her trust in Sun Tran. Not only did she trust the drivers with her children, but she also had faith that they would get to their destination on time. 
Nearly 50,000 passengers depend on Sun Tran to get to and from work, school or medical appointments each weekday. 
Sun Tran recently introduced a video series in which they share the stories of passengers who depend on public transportation every day. 
"We wanted to elaborate on the stories of the vast number of employees who use Sun Tran for their daily commute to and from work," said Pat Richter, director of marketing and communications for Sun Tran.
By highlighting the various individuals who rely on public transit, Richter hopes this series sends a message to others that they too can count on the service.
In addition, he believes it can also help inform the general public, business owners and elected officials about the importance of public transit and its contribution to the local economy.
"It has an integral role in access to jobs, education, healthcare, shopping, and services," Richter added.
Furthermore, partaking in public transportation can also be a way of meeting people from all walks of life.
Hannah, who moved from Hong Kong to Tucson, is a participant in the video series and a University of Arizona student. She values public transportation because she can have conversations with her friends and meet new people.
From inside the bus, she enjoys resting her head on the window and taking in the unique views Tucson has to offer.
For other passengers, their use of public transportation stems from their commitment to helping reduce their carbon footprint. As an environmental organization, Watershed Management Group encourages its employees to use the bus or other alternatives of transportation to do their part in helping the environment. All employees are provided with a SunGO card with unlimited free bus rides that can be used for work or personal use.
Initially, Sun Tran asked their drivers for the names of passengers who were interested in sharing their stories for the video series. Now, they are opening it up for the public to volunteer their story on how public transit impacts their lives. 
Passengers can submit their stories and contact information to suntraninfo@tucsonaz.gov. They may get selected to be highlighted on social media and maybe even to be part of a video for the series.
To see Sun Tran's video series, Sun Tran Stories, visit their YouTube page, SunTranTucson. 
Vianney Cardenas is a University of Arizona journalism student and Tucson Local Media intern.
Link to full media:
'Sun Tran Stories' documents passenger lives
Program